Website of the day: disapprovingrabbits.com
They're cute, they're fluffy, and they disapprove!
Sorry for the absence – I've been sick.
Fever, body aches, coughing, vomiting, crying SICK.
(Crying not only because I was so miserable, but also for Tater Tot. If I am in this much pain, how much is the little one suffering?)
I felt a bit better today but I still have a fever.
Trying my best to catch up on emails and work.
So until I feel better -
Geek in Heels out.
Several of my readers have offered to help spread the word about my freelancing services (thank you!). If you or anyone you know are in need of the following services, please contact me through my contact form, or via direct email: jenny (at) geekinheels [dot] com.
Web design/development, specializing in blogs. I am very familiar with WordPress, Squarespace, and Joomla.
Branding/corporate identity. I helped spearhead a year-long branding campaign at my previous job, where I was in charge of:

Creating and maintaining the corporate identity website
Creating templates and samples

Printed materials. I have in my portfolio:

Direct mail campaigns, start to finish: copywriting, designing, and working with printers and mailing companies. Designed pieces included letters, envelopes, inserts, and postcards.
Pamphlets and brochures
Advertisements
Catalogs
Posters, banners, and flyers
Stationery: letterheads, envelopes, mailing labels, business cards

E-marketing. I am familiar with various email campaign systems and all the major social media outlets.
Wedding album design
A portfolio site is in works, but it is not finalized yet. For the time being, I have samples of all works which are available upon request.
I also have a great relationship with a printing company that can handle all printing jobs, as well as handle any mailing requests, if any.
You can view my résumé in PDF format here.
Thanks for reading, and thank you in advance for your help!
---
P.S. – My husband is in need of a full-time job! If you know of any companies in the NYC area in need of a talented Software QA Engineer, please let us know!
I have been blogging for eight years. I have had moderate readership at my first blog, gained immense exposure through Weddingbee, and am starting to get a small but devoted following here at Geek in Heels.
Needless to say, I am no stranger to internet trolls. I have received my fair share of personal attacks and snarky comments over the years. You would think that I've gotten used to it by now.
…but I would be lying if I said that it doesn't hurt.
This past week, in response to My Reasons for Withdrawal, I have been subjected to the following comments:
"stupid bitch"

"a perfect example of the entitlement generation who got a mortgage they couldn't afford, live in a city that's too expensive, and continue to leech off us hard-working Americans."

"welfare whore"

"…poor self-pitying wench…egotistical yuppy dinks thought that they had the finances to live in NYC on one income in a place they really couldn't afford to begin with….These dinks deserve to lose their home because they have no life experience, think way to much of themselves, were not willing to work hard."

"[You are] the reason I will never support universal health care."
The best part is that all these comments were posted to other sites that linked to my story. None of them had the courage, time, or consideration to bash me straight to my face. Yes, I only found them through referring links to my blog.
My reason for writing My Reasons for Withdrawal was to inform my readers of what is going on in my life. That was all. I was, and still am not seeking pity. It was not an attack on the U.S. healthcare system. And it certainly was not meant to arouse so much anger.
The power of anonymity that the internet offers can be scary at times. South Korea, one of the world's most wired countries, is even considering enacting a "Choi Jin Shil law" after the famous actress who committed suicide after slanderous comments about her were posted all over the web.
I know that the best reaction against trolls is no reaction. Ignore them, and they will go away. While I admit that this method works in the long run, it still does not quell the initial sting of reading each hurtful comment. It almost makes me want to not write about personal subjects anymore, because there are a lot more scandalous events going on in my life that will certainly provide more kindle for the fire.
It really is a sad world to see so much hate and judgement hurled against strangers, assuming so much without knowing the entire story, and immediately casting out those with differing opinions.
Did you know that Google Reader has a secret ninja mode? Activate it using the infamous Konami code (if you don't know what the Konami code is, shame on you!) and your favorite RSS reader will transform into this: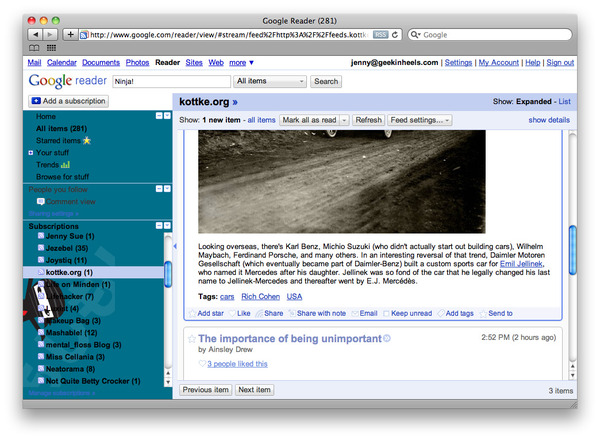 Not only has the cute ninja from GMail themes replaced your sidebar, your "Like" button has transformed into a heart! Click on the "Like" button for a nifty animation of flowering hearts:
Click on "Unlike," and the heart will break before your eyes:
View the YouTube video below for the full explanation and to see the animation in action:
Via GeekSugar.