Remember Cloudy?
No? Let's see if this picture of Claire crotch-punching Cloudy rings a bell: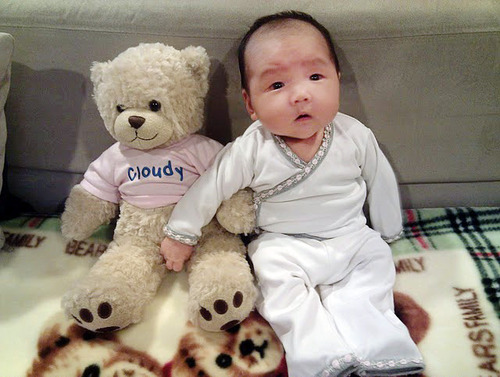 I keep forgetting how TINY Claire used to be! She is now more than twice Cloudy's size.
You can read all about Cloud's origins here, including the hilarious story behind her name. 🙂
Lately we have been keeping Cloudy near Claire's diaper station as a means of distracting our little girl while we change her. And, because sometimes just holding Cloudy isn't enough, we will usually squeeze Cloudy's left paw to play the theme from Star Wars.
The good news is that Claire has grown to love the theme from Star Wars. 😀 She will smile and clap as the majestic melody swells through the room. (I know! We couldn't be more proud!)
The bad news? We think Claire is now starting to associate that same melody with dirty diapers!
Crap. (Literally.)
You may also like: