Today marks the end of Claire's first full week of preschool. (Last week was a 3-day school week.) While she didn't cry the first day, she shed some tears every morning after that…until yesterday, that is. She had a perfectly pleasant, tear-free day yesterday and J texted me to let me know that she didn't cry this morning at drop-off either.
She is sooo excited to ride the "school bus" (it's a regular city bus but she calls it her school bus) every morning with her baba, and he tells me that she sings "The Wheels on the Bus Go Round and Round" whilst riding the bus. She's learned a new song ("Mr. Sun") and her English has already improved tremendously in this short time. For example, I was amazed when she said to me, "Mom, come up here! Let's go down the slide together!"
In celebration of this small milestone, I wanted to share with you a series of illustrations by Parisian designer Andry "Shango" Rajoelina that depicts superheroes and their families on their way to school. The first part of his series, "Justice Families," debuted back in May and part two, "Marvel Families," debuted last month.
Uncle Ben with a young Peter Parker (Spider-Man):

Mister Fantastic & The Invisible Woman:

Magneto with his children (Quicksilver, Scarlet Witch, and Polaris)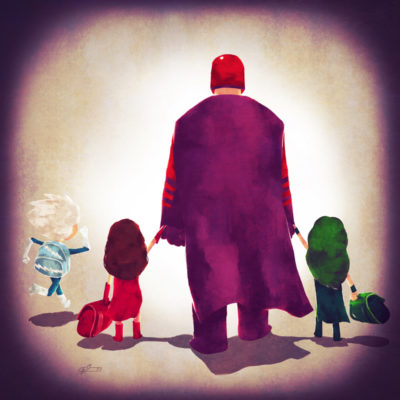 Limited-edition prints are available for purchase at Geek-Art. Oh how I wish I could purchase the entire set and adorn the girls' room with them!
Via My Modern Met.
P.S. — Today's the last day to enter my Sephora VIB Celebration Bag giveaway! Have you entered yet?
You may also like: