Today, I am featuring a guest post by Kristin of Bien Living Design, an interior decorating service based out of Chicago. Kristin is a firm believer that great style can be had without breaking the bank, and that everyone can and should have access to an interior decorator, which is precisely why she launched her Long Distance Design service. I felt like I was getting her services for free when she agreed to do a guest post for me — let alone a guest post that focuses on geek chic interior design! Enjoy this post, and be sure to check out Kristin's blog for more great ideas!
---
I am really excited to guest post on Geek in Heels!  I met Jenny through our blogging stints for Weddingbee & I've just always liked her (she even built my website & put up with all of my non-tech savvy questions). Though I don't define myself as a geek, Jenny's blog is one of the only ones that I read religiously. I've been meaning to get this post to her for weeks (kind of like my own blog!) & am thankful that she is letting me submit it so late.
I wanted to incorporate "geek" into what I know, which is interior design. As it turns out, it really is quite easy to add little touches of geek to your life without going overboard. However, it's also really easy to go overboard.
So, let's get started with some home accessorizing. We all use candles & picture frames, right? Why not go geek with legos and recycled circuit boards? And I couldn't resist the adorable robot measuring cups — they pull double duty as fun kitchen decor as well.
1. Lego Candles  2. Robot Measuring Cups  3. Circuit Picture Frame
As an interior designer, I think pillows are the perfect finishing touch to any room. They're a fun way to add a bold shot of color and pattern & I really do love all of these clever designs, but I love the Scrabble tiles and Twitter logo best.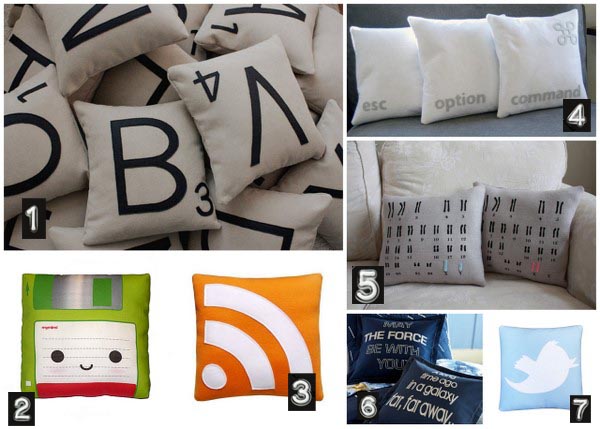 1. Scrabble  2. Floppy Disk  3. RSS  4. Mac  5. Chromosomes  6. Star Wars  7. Twitter 
Pixels are fun & bright & colorful. A perfect combination for home decor! I especially love the rugs from this set.
1. Pixelated Bedding  2. Pixel Scales Rug  3 & 4. Persian Puzzle Rug  5. Haute Pixel Pillows
6.Abstract Pixel Bedding 7. Fun Pixel Pillow
The Space Invaders wall decals are actually what inspired this entire post! I saw them featured in a Chicago Magazine article a few years ago (I believe in a Fall Out Boy members home?) and have loved them ever since. They were in his bedroom, but I love the whimsy they add to this open stair case. And those Light Saber sconces?! I'm not even a huge Star Wars fan & I still think these would be awesome in a little kids room (or an adult kids home office!).
1. Wall Decals  2. Light Saber Sconces  3. Star Wars Lamps  4. Abacus Wall Art 
So, what are your thoughts?  Have you incorporated any geek into your decor lately?
---
About the Author:
Hi!  I'm Kristin Tavrides, owner of Bien Living Design. Located in Chicago, I provide interior design services to clients all over the city & suburbs, and the USA at large through my Long Distance Design service. That's right! Online room design that is affordable and fun. I sporadically blog about design, DIY, travel & family at Bien Living Design.
You may also like: