By now you've probably seen the viral Harry Potter characters' Myers-Briggs types chart. When I first happened upon it last month, the timing could not be more uncanny; a friend had mentioned that her personality type had changed drastically over the years, so I had just taken the test again myself.
Is it more common for your type to change over time, or to stay consistent through the years? Because for me, all three times I have taken the full test — over the span of about a dozen years — I have received the same result: ISFJ.
(So according to the Harry Potter chart, I'm Neville Longbottom. Perhaps I too, will have an unforeseen moment of kickassery one day? 😉 Also, if you don't know your type, you can take a test here.)
I know that the 16 Personality Types is not a perfect system — some people even liken it to astrology — but I think it can be informative and fun nonetheless. For example, I was driven to tears when I read the Portrait of an ISFJ and ISFJ Profile because it so accurately described what I had been struggling with at the time. (Don't judge; I was having a tough week!) I also found it amusing to ask close friends' types and to read up on them, to see how closely they match these archetypes.
I also came across other psychological type charts like the Harry Potter one mentioned above: Avatar, Star Trek, Kingdom Hearts, and even My Little Pony!
So of course I had to look for a Star Wars one…but I couldn't find any. 🙁 There were tons of sites discussing the possible psychological personality types of the various Star Wars characters (with a few actually getting into heated arguments!), but no chart. At least, none that I could find.
So I decided to create my own. What do you think?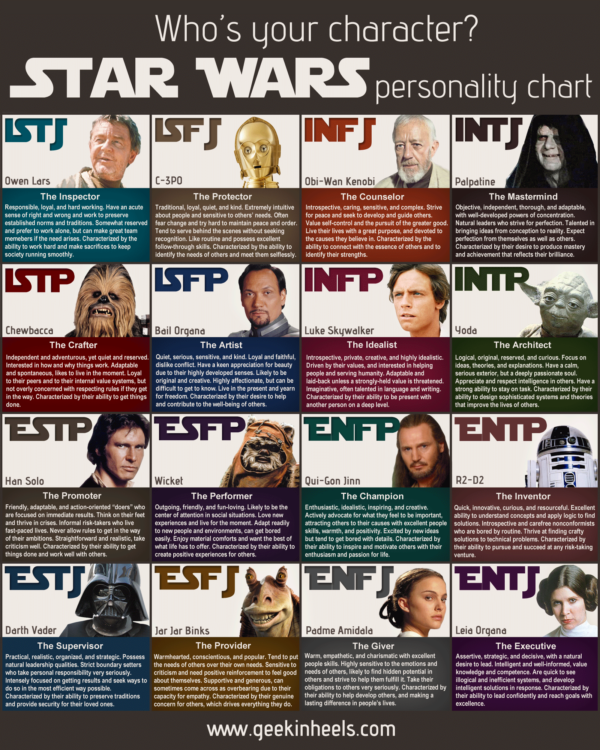 And because this is the World Wide Web and I am posting this on a public blog…
…and because this is Star Wars and we fans can get pretty intense…
I am not a psychologist and reading about the 16 Personality Types is just a passing hobby.
I'm a huge Star Wars fan, but I do not know every nuance about the films and the characters in the extended Star Wars universe. My methodology for choosing each character was:
Brainstorming (i.e., what name comes up first as I read each personality type description?)
Scouring to web to see what others think
Picking what I believed to be the best fit based on what I read on these sites and what I know of the characters
I'm well aware that there may exist other lesser-known characters who may fit some of these archetypes to a T, but I decided to go with the more popular ones because I'm a sellout not everyone is a big Star Wars fan (yeah, I don't get why either) and I wanted the chart to be more relatable from a pop culture standpoint.
Enjoy!
---
Update, 11/9/11:
I was contacted by a rep who kindly informed me that the original post, and the accompanying chart, is in violation of copyright and trademark regulations. I have updated both the body of the post and the chart in accordance with their request. I have done my best to preserve the message and mood of the original — sorry to anyone who finds this an inconvenience.
You may also like: