I had read in last year's August issue of InStyle and the September issue of Vogue about a new foundation that SK-II was releasing: the Air Touch Foundation.
A description of the product from the SK-II US website:
At a touch of a button, the amazing ionisation technology delivers foundation one particle at a time for a most precise and natural coverage. When the ioniser is switched on the positively charged micro foundation particles are instantly attracted to the negatively charged micro particles on the face, covering the skin in a single, even and precise layer – no mess, caking or streaking.

In addition, Air Touch Foundation is formulated with SK-II's seemingly miraculous ingredient, Pitera, and moisturising agents to provide skin caring benefits and hydrate skin.
Both InStyle and Vogue had raved about this foundation. Personally, I wasn't sure if I believed all the ion mumbo-jumbo; after all, so many cosmetic companies these days claim scientific breakthroughs in their marketing campaigns that I've started to ignore the majority.
Besides, the damn thing costs a whooping $150.
And it was sold out everywhere.
However, this was touted as one of the best foundations out there…in a gadget form. My inner geek wanted to try the little battery-operated ionizing machine.
I continued to research this product on the web. There were very few bad reviews on this product, if you can even call them bad. The only repeating complaint I read was that it's too expensive. This is VERY rare for a foundation, since there are so many different skin types and preferences.
By Friday, I had read enough – I wanted this foundation! I called Saks to see if they had it in stock – luckily, they had just received a shipment. I hopped on over during my lunch break to try it out.
As soon as the makeup artist finished applying it and held up a mirror for me to see, I was amazed. Wow. I was sold.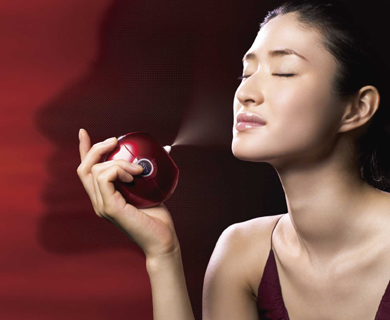 Because the particles are only attracted to negative ions, it doesn't get on your hair, eyebrows, or clothes (unlike airbrush foundations). In addition, you're supposed to use it AFTER you put on your concealer, eyeshadow, blush, etc. Only mascara and lipstick come after the Air Touch Foundation.
Not only does this give your face a glowing, finished look, it also FEELS great. My face feels moisturized and it really, honest-to-god feels like I have nothing on.
I should, however warn that this isn't the product for you if you're looking for medium to heavy coverage. It's very sheer so that your true skin shines through.
You can buy refills in packs of two for $80. Each refill is supposed to last 6-8 weeks, so I figure, after paying for the dispenser, you're not spending TOO much.
Okay, so I'm done with my quarterly luxury expense. 🙂
You may also like: