I'm happy to say that right now, at the age of 36, my skin is still clear of any lines or wrinkles. A friend paid me a great compliment the other day by exclaiming I had to have gotten Botox or fillers (I haven't).  😳  I know that I should credit some of this to genetics (thanks, mom!), but I also like to think that it also has to do with the diligent attention I've paid to skincare since I hit my thirties.

My two keys to anti-aging: hydration and sun protection!
It's been a while since I last wrote about my beauty routine, or skincare/makeup in general. I still have a love for K-beauty, but I've also incorporated French and American skincare products into my routine. The products I will be sharing with you are items I have repurchased numerous times, making them HG-status in my book.
First up is sunscreen. I wear sunscreen every. Single. Day. Even if I'm not going out. Sun protection is the #1 defense against the aging of skin. (Don't believe me? Check out the sun damage on one side of this man's face after driving a truck for 28 years!) And my choice of sunscreen is the Shiseido Urban Environment Oil-Free UV Protector Broad Spectrum SPF 42 For Face ($33-$46).
This sunscreen is ideal for combination-to-oily skin types, as it controls excess sebum production throughout the day. It applies thinly with a very minimal whitecast, and even acts like a primer, layering beautifully under makeup. I've tried numerous sunscreens in my lifetime — including the über-popular Biore Aqua Rich Watery Essence SPF50+/PA++++ — and none has compared to my Shiseido Urban Environment. I think I've purchased more than 10 bottles since first discovering it!
Next up is the double cleanse. Ever since discovering AB (Asian Beauty), I have tried numerous first and second cleansers…and I keep coming back to the same two products…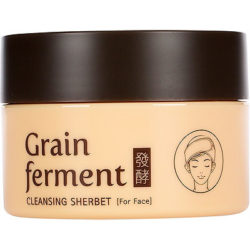 I've mentioned the Botanic Farm Grain Ferment Cleansing Sherbet ($30) before, and it still remains my favorite oil cleanser. It melts away all my sunscreen and makeup, — even the notoriously hard-to-remove Kiss Me Heroine Make Long and Curl Mascara! — has a subtle, fresh scent (I couldn't stand the strong smell of the popular Heimish All Clean Balm), and the texture is just plain luxurious.
My favorite second cleanser is another product I've mentioned in the past. The Whamisa Organic Flowers Foam Cleansing Cream ($35) lathers to a rich foam, leaves my skin clean and soft, and a little goes a long way — each bottle lasts 4-5 months with twice-daily use! Sure, it may have a higher pH than is desirable by most skincare enthusiasts, but my skin loves the stuff and I keep coming back to it. (Yes, I've tried the much-raved-about Sulwhasoo Snowise EX Cleansing Foam Facial Cleanser…and I prefer the Whamisa!)
Now, on to toner. In the past couple of years, I have slowly phased out pH-balancing toners and moisturizing toners in favor of an exfoliating toner. This toner is a cult favorite, dubbed a "facial in a bottle" and named number one on Allure magazine's list of the best beauty products of all time. It is none other than the Biologique Recherche Lotion P50 ($27-$98).
There are numerous reviews and articles available regarding the P50, but my favorite can be found at Skin & Tonics. In it, Kerry reviews both the original 1970 formula as well as the newer, phenol-free formula. I have tried both and have not found much of a difference between the two, performance-wise. Thus, I switch back and forth between the P50 and the P50 1970. Yes, they both smell horrendous. (J especially hates the sulfuric smell of the 1970 formula and makes a big point of staying away from me on the nights I use it.) And yes, your skin will probably go through a initial "purging" stage when you first start using it. (I know mine did.)
But the results! No other product is so adept at tackling so many issues at once — it will smooth the texture of your skin, brighten the skin by fading discoloration and spots, strengthen the epidermal shield, regulate excessive sebum secretion, hydrate the skin, and maintain the skin's pH.
Next up is a Vitamin C serum. Why do you need Vitamin C in your anti-aging skincare routine? Vitamin C is a prime ingredient of collagen, the substance that binds cells together. Stable collagen production fights wrinkles and ensures evenness in the skin's tone and texture. Vitamin C also functions as an antioxidant, protecting the skin from damaging free radicals.
Now, there are many, many Vitamin C serums available on the market, both in AB and in the western beauty world. And quite a few are affordable and effective. But I'm sorry to say that my favorite Vitamin C serum is on the more expensive side…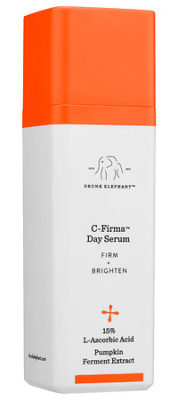 The Drunk Elephant C-Firma™ Day Serum ($80) comes equipped with 15% l-ascorbic acid — as opposed to other brands' 20-21.5% — but that does not make it any less effective. The other ingredients in this serum, in conjunction with the contamination-proof packaging (air-tight and lightproof — when you twist the top of the bottle, the pump dispenser comes out…love this design!) makes it far more efficacious than any other Vitamin C serum I've tried.
Again, due to the genius of the package design, I do not need to worry about my volatile Vitamin C going bad, which is often the case with other bottles that are clear and/or have dropper dispensers. One pump is all I need for my entire face, and an entire bottle lasts a god 3-4 months with daily use.
The next product I want to talk about is another multi-tasker. Is it a moisturizer? Mask? Primer? It can act as all three of those things, and the product I am talking about is the J.One Jelly Pack ($42).
The J.One Jelly Pack was developed by Ha Ji Won, one of Korea's most popular actresses. The texture can be slightly alarming to first-time users, because it is thick and gelatinous…and STICKY! But once it is spread over the face, you pat, pat, pat…and keep patting until it is no longer sticky. And what you are left with is skin that is instantly plumped and lifted.
Due to its sticky nature, the J.One Jelly Pack makes for a wonderful primer, and that's how I use it. In the morning, I wash my face, use a toner, then Vitamin C, then sunscreen, and then the Jelly Pack. This last step acts like a glue for all my makeup, and helps ensure my makeup lasts all day. When I travel, I use the Jelly Pack as a sleeping mask too, and wake up to hydrated, plump skin.
Now, on to the lips. Last year, every Korean beauty blogger and vlogger seemed to go gaga over the Laneige Lip Sleeping Mask. So of course I got it for myself and…I wasn't too impressed.  😥  While it smelled nice and the packaging was adorable (especially the tiny spatula), it just seemed to sit on my lips and not really do much aside from that.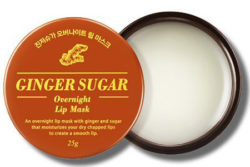 That's when I watched a video by Edward Avila, who seemed to have the same opinion as me regarding the Laneige Lip Sleeping Mask. He recommended the Aritaum Ginger Sugar Overnight Lip Mask ($10.02) instead, and boy am I glad I listened to him!
A warning before you proceed: the Aritaum Lip Mask is sticky AF. But since it is the last thing I do before going to sleep, it doesn't really bother me. All I know is that overnight, it really penetrates the skin of your lips to transform it into the softest, most luscious they've ever been. I've raved about this product so much that I've gotten a bunch of my friends hooked on it too. I even ordered three from Korea before they were available on Amazon Prime.
The last three items on this list are makeup products, two of which are cushion foundations.
First up is the Troiareuke A+ Acsen Cushion ($39.98). Troiareuke is a skincare line developed by a top dermatological clinic in Korea. Its makeup — its BB creams and cushion foundations — all boast a "99% skincare, 1% makeup" slogan. In other words, their makeup is good for your skin. Seriously. You can fall asleep with it on and you won't get any breakouts.
Troiareuke offers three cushion foundations: the H+ (for dry to normal skin, offers a dewy finish), the A+ (for normal to oily skin, offers a satin finish), and the Seoul Aesthetic (for mature skin, offers a satin finish). All three are SPF 50, PA+++, and offer beautiful medium coverage that last the entire day. The bad news is that these cushions only come in one shade each. The H+ is similar to a Korean 21, while the A+ and the Seoul Aesthetic are similar to a Korean 23. (I am a MAC NC25 and the A+ is a great match for me.)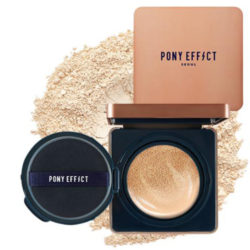 Next is the Pony Effect Coverstay Cushion Foundation ($43). Like the Troiareuke cushions, the Pony Effect cushion offers a high SPF of 50 and PA+++. The coverage on this is medium to high, and a little goes a long way. Just a light dab of the puff can cover the entire face! Not to mention, the metallic rose gold packaging is plain gorgeous.  😉  It comes in 7 shades, and the color Buff is a perfect match for my NC25 skin tone.
I have tried more than 20 cushion foundations since first discovering AB, and the Troiareuke A+ cushion and the Pony Effect Coverstay cushion are my two favorites. I know that I can use the A+ cushion whenever my skin isn't at its best, and the foundation will not do anything to exacerbate the problem. The Coverstay cushion can be applied with a light hand to just even out my skin tone for an every day look, or with a heavier touch for a more polished look for when I'm going out.
(If you have drier skin, or prefer a dewy finish with the coverage of the Pony Effect Coverstay Cushion, I'd recommend the Pony Effect Everlasting Cushion Foundation.)
One thing I should mention is that the Pony Effect cushion comes with a refill, while the Troiareuke cushion does not. So the Pony Effect is a better deal in the long run.  🙂  And again, the packaging is so pretty, with a large mirror, to boot. It totally makes you want to pull it out of your bag for touchups!
The last item I want to talk about is a makeup setting spray. I know that the Urban Decay All Nighter and De-Slick usually get all the attention, but I have found a better, AB alternative for those with combination or oily skin: the Boscia White Charcoal Mattifying MakeUp Setting Spray ($12-$38).
I don't know what all the bad reviews complaining about the white spots are talking about, because if you follow the instructions and shake the bottle before using, the spray will come out evenly and without any spots. When I know I'll be out all day, I'll practically soak my face in this stuff (it dries down in a couple of minutes) and my makeup lasts until I use an oil cleanser to wash it off. What's more, I've noticed that I'm less oily at the end of the day whenever I use this spray.
So there you have it. The 10 beauty products I love, and have purchased over and over again in the past few years. If a product has not been mentioned here — i.e., a moisturizer or an eye cream — it's because I haven't found THE one yet. If you have any questions about any of the products mentioned here, or where they belong in my routine, please let me know below.
And please don't forget your sunscreen!  😀 
You may also like: