Yesterday, my friend Jacinda joked that she needs a Geek in Heels beauty subscription box. I was super flattered to receive the comment, and it got me thinking about what I'd include in a box if I could curate one…
The problem lies in the fact that I'd include too much! The box would cost a lot and sourcing the products would be a nightmare considering the variety of brands and items (some of which can only be purchased through specific retailers).
But one can dream, can't I?
My dream skincare box would include a whopping FIFTEEN products:
In the order of application/use… (not all products used every day, obviously)
Botanic Farm Grain Ferment Cleansing Sherbet. This oil cleanser is my favorite of all the cleansing balms I have tried (which includes the Banila Co Clean It Zero, Purity, and Resveratrol, as well as the SU:M37 Skin Saver Melting Cleansing Balm). It melts sunscreen and makeup like no other, it emulsifies beautifully, and the subtle, grain-like scent is perfect for my sensitive nose. $30 at Memebox and at Botanic Farm.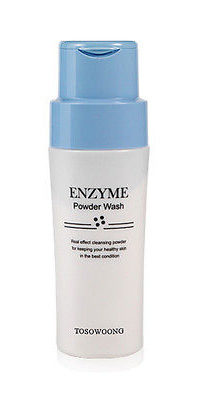 Tosowoong Enzyme Powder Wash Cleanser. This powder-to-foam cleanser may look like laundry detergent, but don't let that scare you. It is gentle with a pH of 5.5, foams into a rich lather, cleans well and leaves your skin baby soft. And like other powder cleansers, you can control the texture of it by adding less or more water — you can even use it as a cleansing paste! A form of "skintertainment" to be sure, but you can't deny that it works. It's also priced incredibly well. ($6.10 at RoseRoseShop, $10.90 at Wishtrend.)
Missha Natural Konjac Cleansing Puff (Bamboo Charcoal). You can get good konjac sponges practically anywhere these days, but the Missha Bamboo Charcoal one is my favorite for its soft yet resilient texture. The Bamboo Charcoal version is for oilier-skinned folks, and there's a regular white clay type too. $5 at Missha.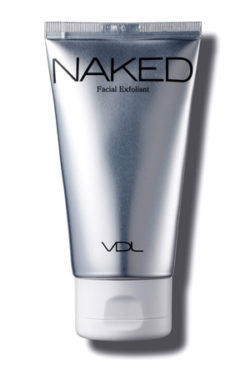 VDL Naked Facial Exfoliant. I use this 2-3 times a week as a physical and chemical exfoliant. After doing my regular double cleanse, I gently massage this over my face for about a minute. Then I let it sit for another few minutes, and rinse off. My skin is always so soft and so clean after using this, and whatever I apply afterwards absorbs better. ₩17,500 (approx $14.75) at TesterKorea, $23 at W2Beauty.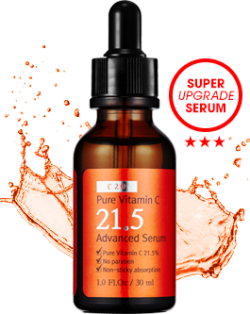 C20 (OST) Pure Vitamin C21.5 Advanced Serum. I've used both the original C20 and this "upgraded" version, and I like the C21.5 much better for its lighter texture and easier absorption. Vitamin C is one of the best ingredients against aging and age/sun spots, and I can personally attest to its ability to fade discolorations. Be sure to keep it in a cool, dark place though (I keep mine in the fridge), as it can oxidize! $24.99 at Wishtrend.
Son & Park Beauty Water. Is it a toner or exfoliant? A cleanser or hydrator? This multi-tasker sounds too good to be true, but it really is all that and a bag of chips! I decided to invest in a bottle when my trusted Mizon AHA & BHA Daily Toner ran out (the word on the street is that Mizon is reformulating the product, leading to product shortages and outrageous prices everywhere) and boy am I glad I did, because I'm liking it so much more than the Mizon! My face always feels super clean and refreshed whenever I use this, and it's great for fixing makeup mishaps too. $30 at Soko Glam. (Get $10 off your first order of $25 or more when you use this link.)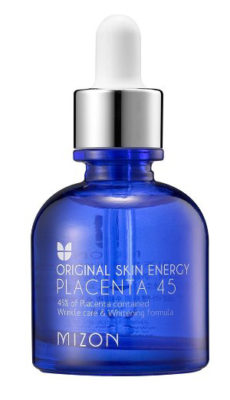 Mizon Original Skin Energy Placenta 45 Ampoule. You may have seen my Instagram post showcasing my "Mizon warriors" — and the Placenta 45 is my favorite of the three. This ampoule uses 45% plant placenta to rejuvenate and brighten the skin, to heal and improve elasticity. Because it's so light and soothing, I use it day and night before moisturizing or even right before a sheet mask. $19.98 on Amazon.
LJH Vita Propolis Ampoule. This is a product, if ever discontinued, would make me cry. Its superb ingredients, which includes 50% propolis ("bee glue"), improves skin texture, evens tone and instantly creates a glow. Each bottle is so small but you only need a tiny amount to reap its benefits. It's liquid gold for your skin! $38 at Glow Recipe, use this link to get $5 off your first order.
Shara Shara Honey Bomb All-in-One Ampoule. This product can be used as a toner, serum, or moisturizer. Its ingredients, which include propolis and niacinamide, help with skin texture, dullness, and aging. (I also have the Berry Bomb, which is lighter and has more brightening effects.) You won't get overnight results with the Honey Bomb or the Berry Bomb, but with continued use your skin will noticeably become brighter and more hydrated. $40 at Glow Recipe, use this link to get $5 off your first order.
Dr. Jart+ Ceramidin Cream. When my skin needs healing from irritations, or when I experience any dry, flaky patches, this is my go-to cream. This lightweight cream uses microcapsule ceramides with time-release technology to keep the skin hydrated from within. It sounds like marketing mumbo jumbo, but I swear that it works just as it says! I've had to use this a few time this summer when my skin was purging from a new product, and I know I'll be reaching for this regularly once the weather gets colder and my U-zone becomes drier. $27.80 at Amazon, $43.20 at Memebox, or $48 at Sephora.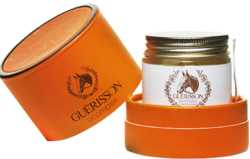 Guerisson 9 Complex Horse Oil Cream. This cult product had intrigued me for some time, but I always figured it would be too heavy for my combination skin. However, when my skin became dry and irritated from some purging last month, I decided to pick up a jar after reading Skin & Tonics' review. And WOW! The ceramides, niacinamide, and oligopeptides all helped hydrate and heal my skin, vastly speeding up my purging process. Since then, the Guerisson 9 has quickly become my new favorite night cream. $19.38 at Amazon, $20 at Memebox.
Mizon Special Solution Good Night White Sleeping Mask. I have tried various sleeping masks in the past, and while I liked some of them, I wouldn't say any of them gave me prominent results overnight. This one is different. It is the best sleeping mask I've ever used, period. Don't believe me? Check out this morning selfie — no filter, no makeup, I woke up looking like that! The price is pretty sweet too. $12.98 at Amazon.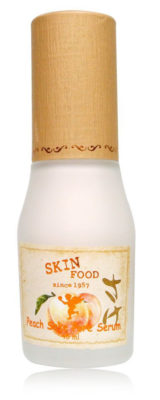 Skinfood Peach Sake Pore Serum. This one's for all the oily-skinned folks out there. I personally haven't noticed any difference in my pores from using this serum (which actually has the texture of a lightweight lotion), but I can definitely tell a difference when I don't use this in the morning — it's that good at helping control oil production! I like to apply this on my t-zone as the second to last step in my morning skincare routine, before sunscreen. The scent is divine too, just like yummy peaches. $15.90 at Amazon.
Bioré UV Aqua Rich Watery Essence SPF 50+ PA++++. This is one of the most popular sunscreens at /r/AsianBeauty and /r/SkincareAddiction, and for good reason. It's incredibly light and sinks in beautifully, even at the recommended 1⁄4 teaspoon amount for facial sunscreen. Seriously — it feels like a lightweight moisturizer! I'm now glad that my old facial sunscreen got discontinued, because it forced me to try this and I love it! $20.90 for a pack of 2 at Amazon.
Whamisa Organic Flowers Olive Leaf Mist. I never thought I needed a facial mist, but I received this as a gift and I have been loving it! It immediately cools upon application, and hydrates and freshens my face but does not disturb my makeup. It does not leave a sheen either — my face just feels more moisturized and somehow cleaner after using this mist. I love it so much that I got bottles for J and my father too! $38 at Glow Recipe (use this link to get $5 off your first order).
The grand total for the above items? $337.33.  😯  Yep, that's a lot. But considering there are 15 items, that averages to about $22.48 per product. Not too bad. If I could get everything into a $200 box, that would be the dream.
But wait. What about sheet masks?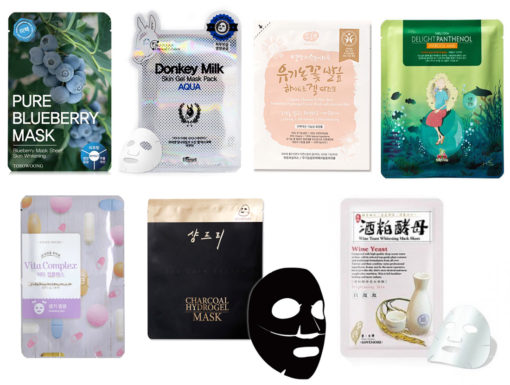 I have tried many, many sheet masks in my lifetime and the above seven are my favorites at the moment:
Ranging in price from $1.82 to $17 per mask, each one of these masks delivers immediate results that last well into the next day. I would include these masks not only for their consistency in performance, but also for their variety in ingredients and texture (cotton, silk, hydrogel).
That was just skincare. How about makeup???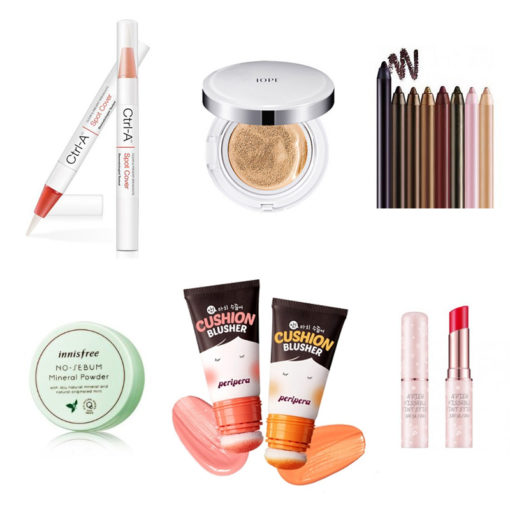 The first item in my makeup box would be the Dr. Jart+ CTRL A Spot Cover. As discussed in this post, this has become my go-to concealer for pimples and dark spots for its great coverage and beneficial ingredients. ($23 at Memebox.)
Next would be the IOPE Air Cushion XP Matte Finish. I still consider this to be the best cushion compact I have ever tried, and usually prefer this to BB cream or foundation for its ease of use. You can read the in-depth review I wrote here, and Amazon Prime now carries it for $38.70 (this includes a refill).
Next up are the BBIA Last Auto Gel Eyeliners for their superb performance at an affordable price. My favorite colors are 20 Jazz for tightlining, 02 Mellow Brown for undereye tightlining, and 04Rose Gold and 40 Angel for highlighting in lieu of an eyeshadow. My makeup box would include one of these colors selected randomly, and you can get your own for $7.98 at Jolse or ₩5,800 (approx $4.89) at TesterKorea.
Next is the popular Innisfree No-Sebum Mineral Powder. This, along with the Skinfood Peach Sake Pore Serum, is the ultimate AB combination for oil control. (It also works great as a setting powder!) $6.62 at Amazon.
Then there's the Peripera Ah Much Real My Cushion Blusher. My shade of choice is #4 Shy Pink, but my beauty box would include any one of the flattering five shades. You can purchase these for $16 at Soko Glam (use this link for $10 off your first order of $25), or Peach and Lily (use this link for $10 off your first order of $50).
Last but not least is the A'Pieu Kissable Tint Stick. This jelly tint delivers the perfect wash of color for a fresh, just bitten look. It is glossy without being sticky, and feels just like a hydrating lip balm on your lips. I fell so hard for this that I immediately ordered 3 more! ($5.36 at RoseRoseShop, $10.27 at W2Beauty.)
What do you think of my dream AB boxes? What would you include/exclude if you could curate your own?
You may also like: