Let's start the week off with some product reviews, shall we?
Whamisa Organic Flowers Creamy Foam Cleanser
I had been eyeing this item for a while because I ❤ Whamisa products and I had read some especially good things about the cleanser. I picked up a bottle when Glow Recipe was having their July 4th weekend sale, and WOW have I been impressed!
There are a bazillion facial cleansers out there, so what sets this apart from the rest? It is a low-pH cleanser (read here to see why the pH of your cleanser matters) that has the textural consistency of a high-pH cleanser. In other words, it is lush and foamy and cleans incredibly well…without stripping your skin of its moisture barrier.
The Whamisa Organic Flowers Creamy Foam Cleanser is everything I've wanted in a facial cleanser. It feels so luxurious and creamy as you massage it into your face, and rinses off to reveal super-clean yet soft skin. It is hands-down, the best foaming cleanser I have ever used!
Price: $35 for a 200ml/6.7oz bottle at Glow Recipe. A bit expensive, yes, but the bottle is huge and you only need a teeny amount at a time. Use this link (affiliate) to get $5 off your first Glow Recipe order!
Dr. Jart+ CTRL A Spot Cover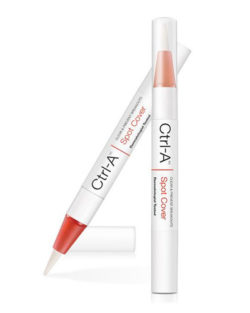 A few weeks ago, I decided to start taking some evening primrose oil to help alleviate my horrible PMS symptoms. Big mistake. While EPO really helps some women with PMS (along with a slew of other issues), it did not agree with me and all I got were breakthrough bleeding and cystic acne. 😥 
I knew the acne had to have come from my taking the EPO, because the spots were all on the lower half of my face — near the mouth and chin, where hormonal acne occurs — and I had not been using any new products that could be breaking me out. Additionally, my skin almost immediately started to get better as soon as I stopped taking the EPO.
I got lucky in that I only sustained a few spots from this ordeal. But they were large, red, painful spots and my usual concealer just wasn't cutting it.
Enter the Dr. Jart+ CTRL A Spot Cover. This is an antibacterial concealer chock-full of beneficial ingredients: angelica acutiloba root extract, salicylic acid, arbutin, lemon extract, and vitamin C. These are all known to help treat blemishes or help prevent/fade hyperpigmentation from acne.
The texture and color are pretty darn good too! It is heavy enough to cover my acne but is not cakey, and the cool undertones really help counteract the redness associated with acne.
Price: $23 at Memebox.
BBIA Last Auto Gel Eyeliner
These liners are the shiz. Seriously. I think I may have found my HG eyeliners!
The BBIA Last Auto Gel Eyeliners have three benefits working for them:
1.) They glide on incredibly well.
2.) Once set, they stay and stay and stay. (Even on the waterline!)
3.) They're affordable, at about $8/pop.
No sharpening required! All you need to do is twist the bottom of the pencil and more product slides up. But if you require a sharper point, the bottom pops out to reveal a sharpener too!
The downside? They only come in 10 colors. It's no problem for someone like me who prefers natural colors, but I personally think BBIA could be reaching a bigger audience by releasing some brighter, vivid colors like turquoise.
I love the BBIA Last Auto Gel Eyeliners so much that I already ordered replacements for my 2 most-used colors, 02 Mellow Brown and 20 Jazz!
Price: $7.98 at Jolse, ₩10,000 (approx $8.69) at TesterKorea
VDL Naked Facial Exfoliant
I first learned about this product in an old Pony's Beauty Diary video. (Does anyone else love Pony as much as I do?) It is a physical and a chemical exfoliant, meaning that it contains granules that physically help scrub your skin as well as chemicals that penetrate into the skin to help remove dead skin and other impurities.
As such, you can use this product in three ways: (1) scrubs and rinse; (2) apply, let it sit a few minutes, then rinse; and (3) scrub, then let it sit a few minutes, and rinse. The third method will obviously yield the most effective results, but it may be too harsh for those with more sensitive skin.
I like to use this product every 2-3 days using the scrub+sit method, and it always leaves my face unbelievably soft and smooth. And I swear that all my products absorb better after using this! This is another product I immediately fell in love with, and decided I'd need to make another purchase before I run out.
Price:₩17,500 (approx $15.21) for a 100ml bottle at TesterKorea, $24.53 at W2Beauty.
Mario Badescu Buffering Lotion
Remember the cystic acne I talked about above? Well, I was honestly at a loss as to what to do about them because I hadn't gotten cystic acne since I was a teenager.
(Only now do I know how lucky I should consider myself — I had forgotten how deep, inflamed, and painful they can be! I now have so much more sympathy for those who regularly encounter cystic acne.  I want to give each and every one of you a hug.)
I decided to do some research on /r/skincareaddiction, and saw a product that repeatedly get mentioned for the treatment of cystic acne: the Mario Badescu Buffering Lotion.
The directions for the Buffering Lotion tell you to shake before use. But the product is so runny and the nozzle so small that application can be tricky. The interwebz came through for me again after I read a review stating that the nozzle head can be easily popped off with your thumb.
So this is how I use the Buffering Lotion: do not shake, but let the ingredients settle and naturally separate. The heavier, white zinc oxide will be at the bottle of the bottle. Take a q-tip and dip it directly into the zinc oxide. (The q-tip will grab onto the rest of the ingredients on its way out of the bottle.) Use the q-tip to directly apply to the spots.
The Mario Badescu Buffering Lotion really helped bring my troublesome, deep-rooted zits to the surface, and helped heal the skin more quickly. I hopefully won't need it as often in the near future, but will keep my leftover bottle in my medicine cabinet and continue to recommend it anyone with cystic acne.
Price: $19 at Ulta, Nordstrom, or MarioBadescu.com.
You may also like: