Are you guys sick of me blabbering on and on about Korean beauty products yet? Well, too bad, because I have more to say!
It's officially been over a month since I first started using these items, and I still remain wildly impressed. In the past, my skin would slowly become accustomed to the new products and/or regimens so that by this point, the benefits would diminish and sometimes even disappear altogether.
(Does this happen to anyone else? Finding a new beauty product that works wonders in the beginning, only to find it losing its effectiveness as your skin adapts?)
But with these Korean beauty products, my skin has remained clear, soft, bright, and supple. My pores have decreased in size, the sebaceous filaments on my nose have all but disappeared, and I often catch myself brushing a hand against my face, marveling at its texture.
Even the 1-2 pimples that always erupts at that time of the month have bid farewell.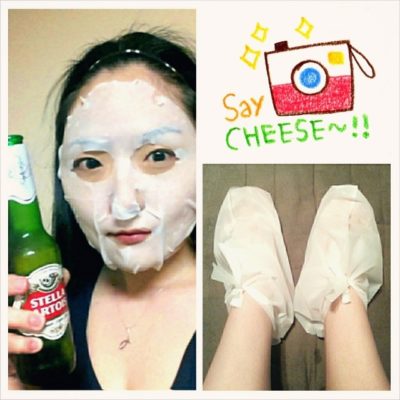 If you follow me on Instagram, you've probably seen this already.
Thursday nights have become my pamper-myself-evenings. 🙂
Once again, I cannot recommend these items enough! I plan to purchase more as I run out — even the foot peeling mask, which has already made my feet softer than I can remember, because I have never taken care of my feet before (would you believe I have never gotten a pedicure?), so a few rough spots still remain.
And being the research freak that I am, I have been doing a lot more digging into this new-to-me world of Korean beauty products and Korean skin treatments. I'm still not ready to start using 10+ items per day as is the norm for many Korean women, but there are a few more items I want to try…
Benton Snail Bee High Content Skin, ~$20

The Benton Snail Bee line, which contains bee venom and snail mucin, has received a cult following from beauty bloggers worldwide. The funny thing is, many Koreans aren't aware of this small brand!
I want to try the skin from this line because it's a step in the Korean skincare regimen I have yet to try. ("Skin" is another word for "toner." While most westerners associate toners with harsh astringents, Korean toners are meant to be used right after cleansing, to settle your skin and prepare your pores for the products that are to follow.) And because the entire Snail Bee line has received such rave reviews, I want to give this a go before trying the others.
The Face Shop Rice Water Bright Cleansing Light Oil, ~$10

Most Korean women would be appalled to learn how roughly I — and probably most western women — treat my skin when cleansing. Indeed, I scrub, rub, and tug with a great deal of force whenever I wash my face. It's a bad habit I'm still trying to break. 😳  
The typical Korean skincare routine, in contrast, utilizes two products in the cleaning process: first, a cleansing oil to dissolve makeup, then a gentle foaming cleanser to remove whatever is left over. In fact, many Korean women believe that you should take as much care and time to wash your face as to prepare (i.e., put on makeup) your face!
I have heard of cleansing oils before (like the popular DHC Deep Cleansing Oil, and the Shu Uemura line of cleansing oils), but have always been too intimidated to try them. However, after seeing how beneficial the Korean skincare routine and beauty products have been to my skin, I'm willing to be more experimental.
The Face Shop Rice Water Bright Cleansing Light Oil is one of Korea's most popular cleansing oils, so I believe I will be making a safe bet. (It also comes in a rich formula for drier skin types.) I'm a bit bummed that I didn't get a bottle while I was in Korea, but I'll definitely let you know how I like it!
Laneige BB Cushion Pore Control, ~$40

I didn't spend too much time at Laneige stores while in Korea, so I didn't know that Laneige had launched a new cushion pact to rival that of the Innisfree Long Wear Cushion (which I raved about here).
The original Laneige BB Cushion (which is now available stateside at Target, in Light, Medium, and Dark shades) is a big hit in Asia, and just like the Innisfree cushion, this Pore Control version was released just a couple of months ago for use in the hot, humid, summer months.
Although the Laneige cushion is twice the price of the Innisfree, most reviews I've read online seem to prefer the former. (Take a look at this glowing review from Liah Yoo!) I'm still working on my Innisfree Long Wear Cushion, but you can bet that I'll try the Laneige BB Cushion Pore Control once I start running low!
You may also like: