Aerin is still at an age where the things she says can sometimes be difficult to understand.
"Umma, can yoo be the peejun and I be the pellekrin falkon?"
"Huh? Can you say that again?"
Luckily, Claire can understand her little sister better than anyone else.
"Umma, I know what she said! She said, 'Can you be the pigeon and I be the Perigrine falcon?'" (Both kids love Wild Kratts.)
Thank goodness for older sisters.  🙂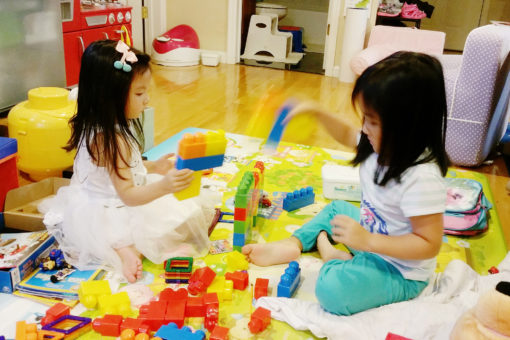 While the first half of summer was busy with camp, this last month is relatively dull. Trips to the local playgrounds and urban water park. Sleepovers at halmuhni and halahbuhji's house. Weddings. An excursion to the museum. And daily study sessions with umma so that they don't fall behind in school. (Can you believe my 4-year-old is already reading level 3 books and starting fractions?)
It sounds like a lot when it's laid out like that, but these last weeks before school starts again in September have been easy-going and lax. And I prefer to keep it this way. Both girls love school, but summer vacations should be loose and lazily enjoyable, no?
As you can probably imagine, my days have been busy with the kids. My health is slowly but steadily on the mend, and I'm currently looking for part-time or even full-time work since both girls will be in school from 8:30-3:30 every weekday come September. (If you have any leads, please let me know!)
There are days when I can't wait for J to return home from work so that he can take over while I escape to take a long bath to destress. Claire exhausts me with her endless questions and Aerin still isn't potty-trained.
But my girls are pretty amazing. Their imaginations, creativity, and spunk astound me every day. And when they randomly run over to give me a hug, to tell me, "Umma, I love you"? Those moments are just about perfect.
You may also like: