Once upon a time, I considered myself an artist.
I attended studio art classes twice weekly. I even considered attending an art college — and in preparation, I devoted the summer vacation before my senior year in high school with 5-hour portfolio classes every weekday.
I was accepted to some of the best art schools in the country. However, I decided to pursue a more "stable" future and decided to attend a traditional college instead. That being said, one of the reasons I chose JHU was for its affiliation with the prestigious Maryland Institute College of Art.
I only ended up taking a couple of classes at MICA, and haven't done much drawing or painting since college. I subconsciously put that part of my life behind me.
So last week, when I felt a sudden and overwhelming urge to draw something, I first became confused…then excited! I quickly grabbed a #4 pencil and a gum eraser from my dust-covered ArtBin and turned my attention to a subject I know, cherish, and study every day: my children.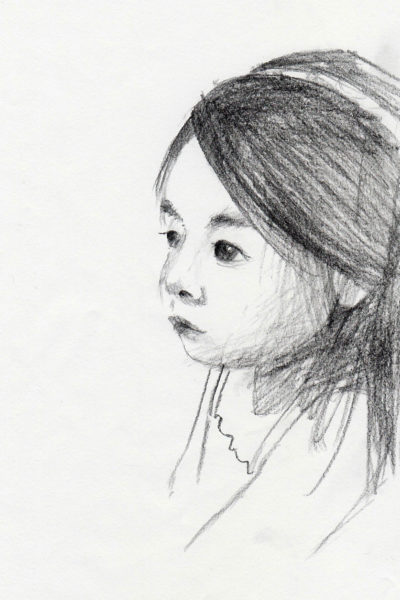 It was only a 5-minute sketch, so it's not perfect. But I like to think that I captured Aerin's essence well.
I showed the portrait to its subject and she immediately recognized herself and smiled, which was the greatest compliment I could've asked for. I then turned to Claire, but my shy older child asked not to be drawn.
But the next day, she agreed.
Claire was considerably more difficult to capture, as her features are less pronounced than her younger sister's. Just as I had concentrated on Aerin's strongest feature — her eyes — I decided to concentrate on Claire's hallmark: her slightly smiling, pursed lips.
My ability to draw doesn't seem to suffered as much as my skills with the piano or violin, and for that I am both glad and grateful. I think I will continue to draw and paint more in the future; I had almost forgotten how much joy it can bring me!
You may also like: