Books and infographics. How could I resist?
Designed by Italian artist Giorgia Lupi, this timeline of future events as predicted by famous novels was originally published in the Sunday supplement of Italian newspaper Corriere Della Sera. She generously created an English version for the site Brain Pickings, and I can't help but be mesmerized!
The resulting visualization is predictably HUGE, so for those who don't want to click on it to view it large format, I have decided to add a couple of screenshots to this post: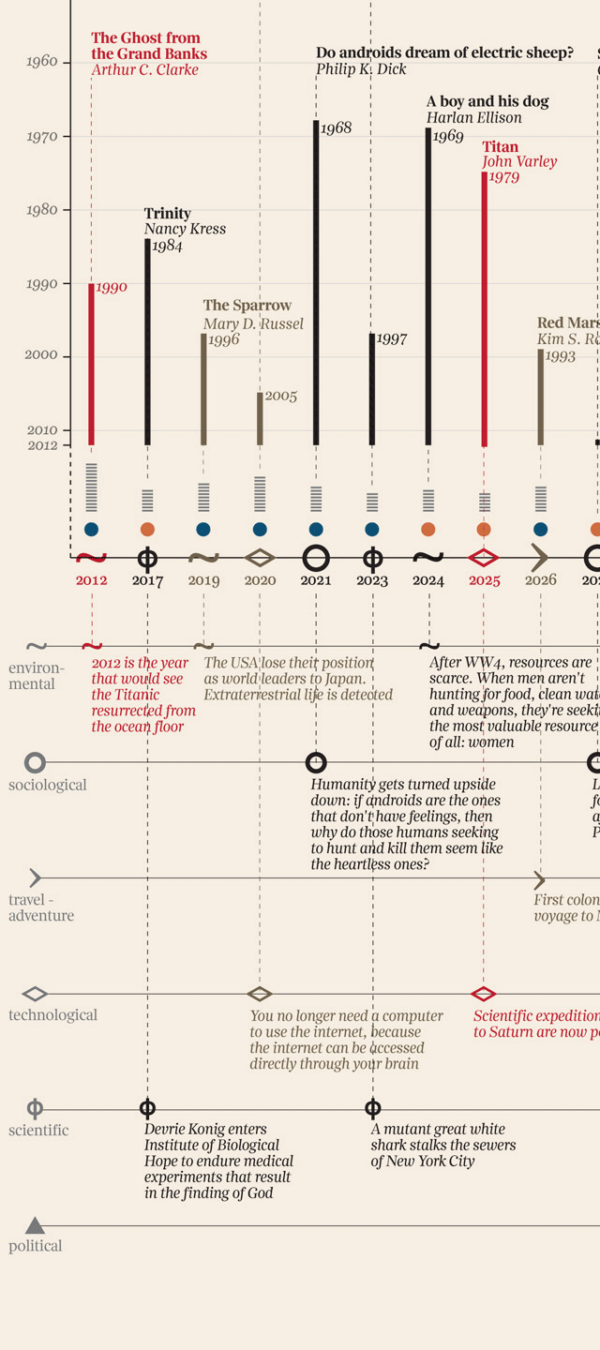 I am sorry to say that a few of the captions still seem to be in Italian. And because I am so nice, 😉 I have translated them to English for you — except for one because it made no sense! — using Google Translate and my one semester of Italian in college.
Please let me know if you see any errors!
Blind Faith (2107): Everyone keeps a blog every day, without shame. "Only perverts do things in private."

[This is the actual line from the book.]

The Hunger Games trilogy (2108): If you are between 12 and 18 years old, you may be chosen to fight to the death.
Kaleidoscope Century (2109):

[I am stuck on this one. Google Translate tells me, "Joshua wings quare lives in an apartment on Mars, with his laptop can be activated by voice. can also change sex at will."  😐 ]

The Mirrored Heavens (2110): The United States and the Eurasian Coalition (China/Russia) are trying to build a successful elevator to space.
Be sure to check out Brain Pickings for more pictures (including progress sketches!) and information on this project!
You may also like: