Did you all have a good Thanksgiving? Have you found any good deals on Black Friday?
Because today is Cyber Monday — and because we are approaching the end of the year with the holidays just around the corner — I've decided to compile a list of my favorite beauty products. The last time I had done this was more than 5 years ago, so there are obviously some changes as well as additions.
I share this information because I am a classic Maven who loves to share the best ideas, products, and trends with others. Additionally, while I'm not a beauty junkie or makeup expert, I have spent the past 20-or-do years of my life experimenting with various beauty products — more so than your average woman — and I can't help but shout from the rooftops when I find something good!
For your reference, I am Asian with medium-fair skin tone. I have combination skin and (luckily) do not break out much. My hair also tends of be combination (oily at roots, dry at ends) and it tends to fall flat by the end of the day.
(If a product type is not mentioned, it's because I have not found a favorite, do not use one, or it does not play an integral part in my beauty routine.)
Let's start!
Skin: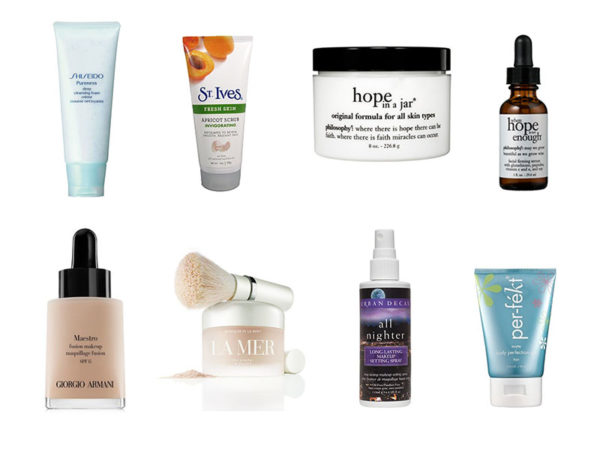 Shiseido Pureness Deep Cleansing Foam — I can't tell you how happy I was to hear that my previous cleanser, Prescriptives All Clean Fresh Foaming Cleanser, became available again after Prescriptives counters closed. However, one day when I was without a cleanser, I stole some of my sister's…and became hooked. The Shiseido Pureness cleanser cleans thoroughly without drying out my skin, it smells amazing, and it even has little beads that help exfoliate your skin.
St. Ives Invigorating Apricot Scrub — This product is a classic used by millions of women for good reason. I use it every other day or so and it helps my skin feeling smooth and fresh. I'm usually not a fan of fruity-smelling beauty products, but I love the way this smells. The best part? It's available at most drugstores for less than $4!
Philosophy Hope in a Jar — This cream feels like a soufflé, and sort of melts into your skin as soon as you apply it. It moisturizes without making my skin too oily, and balances my combination skin well.
Philosophy When Hope Is Not Enough — I've never really used serums before, but I received a sample of this and fell in love with it. Although it's formulated and marketed for anti-aging purposes, I actually use it to rejuvenate my skin; whenever my skin looks or feels dull, I apply a few drops at night and voilà! I wake up with softer, smoother, and brighter skin.
Giorgio Armani Maestro Foundation — I've written about this amazing product before. Go read my review if you're unfamiliar with this amazing "complexion perfector."
La Mer The Powder (with The Powder Brush) — Another HG product I have shared in the past. THE best loose powder out there!
Urban Decay All-Nighter — Whenever I know that I'll be out all day, or will stay out late, I spray this on my finished face and it really helps my makeup stay on longer.
Perfekt Matte Body Perfection Gel — I have embarrassingly pale legs. (When I was in LA a few months ago, a friend commented on my pasty legs and I sadly revealed my tan line — this was my tanned skin!) Since I have no time to go to tanning salons, and because I am a complete klutz with self-tanners, I use this "one-shade-fits-all skin perfector, body moisturizer, body treatment, and natural matte tan in one" instead.
Eyes:
Urban Decay Naked Palette — I once read that this is the best-selling eyeshadow palette of all time. I'm not surprised — the quality, the shades, and textures are that good. In fact, I consider this to be the only eyeshadow palette most women would need! (Earlier this year, the Naked 2 palette was released…but I believe the original is better for its inclusion of the blue shades.)
MAC Liquidlast Liner — My HG eyeliner. Correction: my discontinued HG eyeliner. I am extremely fortunate that a friend sent me a few tubes of my precious after she read my aforementioned blog post. I currently have 3 tubes left, which should at least last me until mid-2013. After that, I will try calling Estée Lauder's "Gone But Not Forgotten" service to see if I can procure some more. If not, I'll try the Milani Infinite Liquid Eyeliner.
Sephora Collection Retractable Waterproof Eyeliner — If I had to choose a favorite pencil liner, this would be it. I keep one in my purse just in case I need to quickly apply eyeliner to a bare face, make touchups to my existing liner, or if my eyebrows are looking raggedly. (My favorite drugstore pencil liner is the Revlon Colorstay Eyeliner.)
Maybelline Lash Discovery Waterproof Mascara — I have teeny, weeny lashes…they're not even long enough for the famous Shu Uemura Eyelash Curler! (Talk about irony!) I actually do not use mascara much — I prefer to use eyeliner instead — but when I do, I reach for this one and its mini mascara wand.
Lips:
As you can probably tell by now, I prefer products that are long-lasting for their ease of use. I hardly ever wear actual lipstick; instead, I prefer the  CoverGirl Outlast All-Day Lipcolor in Canyon — it look orange-y in the tube but it applies as the perfect shade of neutral pink on me — and pat over it whatever lip balm I have on hand. (I don't like the accompanying gloss because I personally feel it's too shiny.) This usually lasts me an entire day.
When I am going out, I will apply the Clinique Full Potential Lips Plump and Shine in Braisin over the CoverGirl Outlast for a slightly shimmery finish. This lip gloss is very thick, and as a result, pretty sticky. However, I prefer it that way because it stays on the longest of every other lip gloss I've tried. As for the the color Braisin? A friend once complimented me on it by saying it look looks too dark and brown in the tube, but that when I applied it, it gave me a sheer, pinky-brown color that complimented my skin tone very well. I only wish that Sephora carried it!
Hair:
Nioxin System 1 Cleanser & Scalp Therapy DUO Set — Remember my horrible post-partum hair loss? Well, a stylist recommended this shampoo and conditioner set and I love it. The Nioxin brand was specifically created for thinning hair, with six levels of treatments for different hair types and levels of hair loss. Level 1 is designed for normal to thin-looking, fine, natural hair and I love it not only because it helps with my hair loss, but because it performs beautifully (cleanses and moisturizes while volumizing my flat hair without drying it out) and it smells amazing too.
Big Sexy Hair Spray and Play Volumizing Hairspray — THE best hairspray I have found. IMO, the famous L'Oréal Elnett doesn't even compare. (This smells a lot better too!)
Oscar Blandi Pronto Invisible Volumizing Dry Shampoo Spray — I have written about this dry shampoo before. I personally believe it to be the best dry shampoo on the market and regularly use it whenever my hair feels oily and/or flat.
So there it is — my favorite beauty products of 2012. Go try them out yourselves, or give them as gifts this holiday season!
Disclosure: some of the links provided in this post are affiliate links, which means that I will receive a small commission if you decide to make a purchase using that link. That being said, ALL the products on this list are ones I would wholeheartedly recommend, and what I have written is 100% my own opinion.
You may also like: