It's been almost 3 months since I ventured into the wonderful world of Korean skincare products. (Not sure what I'm talking about? See here and here.) And because I have tried a few new products since my last post on the subject, I wanted to give you guys an update. 🙂  
First things first: how is my skin holding up? I think I've mentioned before that in the past, after about a month or so of using a new product, my skin seems to adjust and adapt, somehow making the product less effective.
This hasn't been the case with my Korean skincare routine at all! My skin remains softer, smoother, and more supple than I can ever remember. In fact, my skin probably hasn't been this nice since before puberty.
I am now more confident than ever in exposing my bare, makeup-less skin — freckles, age spots, and other discolorations be damned!

I've only JUST started using sunscreen on a daily basis. 🙁  When I think about
all the discoloration and spots I could have prevented by doing this earlier, I
can't help but cringe!
Now, on to the products! 
I have mentioned the double-cleanse method before and how I was interested in trying the Face Shop Rice Water Bright Cleansing Light Oil as a result. But right before I was about to buy a bottle, I read about the Banila Co Clean It Zero line of sherbet cleansers.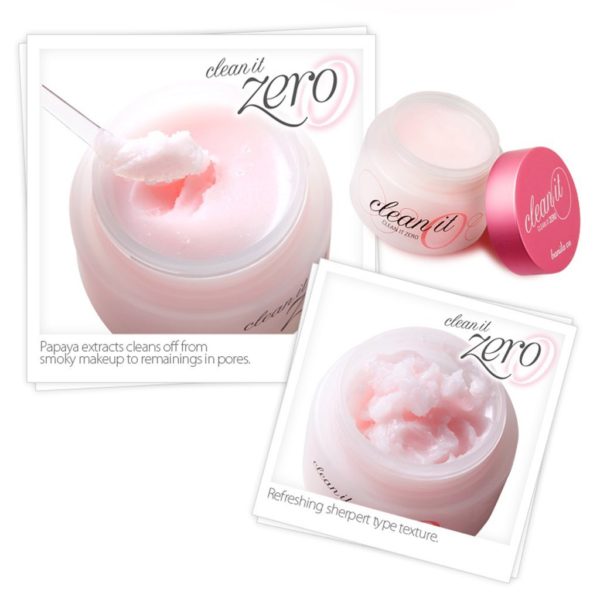 Can I just say that this stuff ROCKS? No messy oils running down your arms. A sherbet texture that immediately melts onto the skin — and although it is an oil cleanser, no slimy or icky feeling.
The original Clean It Zero proved so popular in Korea that other formulations soon followed: Clean It Zero Purity for sensitive skin (does not contain mineral oil), Clean It Zero Radiance for those seeking a glow, and Clean It Zero Resveratrol for whitening and anti-aging effects.
They've even released a large, 180ml (vs the regular 100ml) tub of the original formula, which is what I plan on getting next when my current one runs out. 😀  
As for the second step in the double cleanse method, I waited 'til I ran out of my tube of regular foaming cleanser, and then tried the exact product mentioned in SokoGlam's blog: the Skinfood Egg White Pore Foam. (And why not? This cleanser is less than half the price of what I used before!)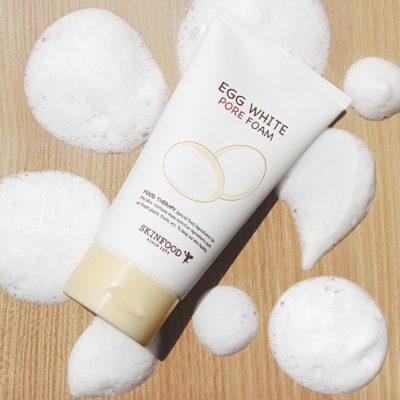 Some people do not like their cleansers to leave a squeaky-clean feeling, but I do…and hence I love this cleanser! It foams up wonderfully and tightens up my pores considerably.
The next two new products I've tried are from the same brand and line of products: the Benton Snail Bee High Content Skin, and the Benton Snail Bee High Content Mask Pack.
To be completely honest, I am a bit disappointed in these products. This isn't to say that they were bad; rather, I had such high expectations for them because of all the rave reviews I had read online! I think that the Benton Snail Bee line would work better on those with sensitive, acne-prone skin. Since I have neither of those concerns, they didn't do much for me — that is, they weren't any better than other skins/toners or sheet masks I've tried.
I continue to use them, but will not repurchase when I run out.
I think I have finally settled into a good regimen — a slightly pared-down version of the Korean skincare routine:
morning:
1.  Cleanse with the Skinfood Egg White Pore Foam
2.  Apply the Benton Snail Bee High Content Skin (will stop using when I run out)
3.  Apply the Missha Time Revolution the First Treatment Essence
4.  Apply the Nature Republic Super Aqua Max Fresh Watery Cream (will switch to the Combination Watery Cream in the cooler months)
5.  Apply the Missha All-Around Safe Block Mild Essence Sun Milk SPF45 PA+++
night:
1.  Double-cleanse with Banila Co Clean It Zero and Skinfood Egg White Pore Foam
2.  Apply the Benton Snail Bee High Content Skin (will stop using when I run out)
3.  Apply the Missha Time Revolution the First Treatment Essence
4.  Use a sheet mask (only once or twice a week, and the type depending on how my skin feels)
5.  Apply the Laneige Water Sleeping Pack_EX
6.  Apply the Innisfree Eco Science Eye Cream
Before, I used to view skincare as a chore. (And I've gone to sleep without washing my face more than I care to admit. 😳 )  But now, I actually look forward to my skincare regimen! And contrary to what I'd feared, the new routine does not require too much time, and despite the fact that I'm using more products, is cheaper than what I used in the past.
Again, why didn't I do this sooner?!??
You may also like: