Aerin has been doing wonderfully with her speech and developmental therapies. In just one month, the number of words she says has more than doubled to over 50, and she has even started to put together two-word sentences. (e.g., "Blow bubbles," "Juice please") She can now count to ten, and tries her best to sing along to familiar songs.
I really believed her hearing was back to normal, and both her therapists agreed.
We were wrong.
I brought Aerin to our follow-up ENT appointment this past weekend, confident that the doctor would give her a clean bill of health. But as soon as he examined her ears, he shook his head and said, "There's still a buildup of fluid behind her eardrums. The medicine doesn't seem to have helped…"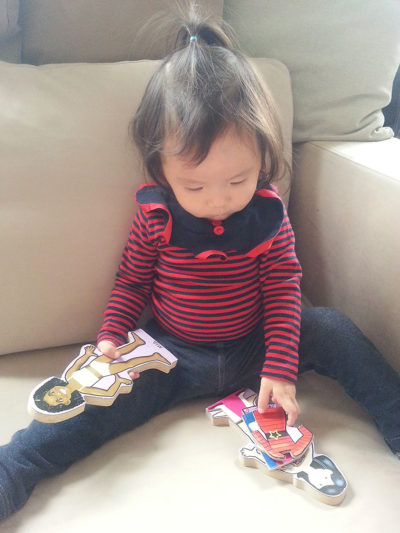 Since Aerin has had fluid in both ears for over 2 months (but more likely since January, when she got her first and only ear infection), adversely affecting her hearing (and subsequently, her speech and development), the American Academy of Otolaryngology recommends that she has tubes placed in her ears.
Our doctor explained that it is a simple procedure, one that is not uncommon among children between the ages of 6 months and 2 years. But it is still surgery, with anesthesia and an IV. The risks are small, but they exist.
We decided to schedule her for surgery right away. Unfortunately, the first opening they have available is November 25, right at the start of the Thanksgiving holiday week. Since the next available appointment wouldn't be until mid-December, we took the November slot.
Despite the bad news, I'm encouraged. The fact that not only one but two professionals believed her hearing to have been fully restored due to the tremendous progress she has made in the past month tells me that not only does she have the aptitude and motivation to catch up to her peers, she will most definitely do so once her hearing is back to normal. There's also the fact that both therapists continually remark on her intelligence and her ability to pick things up quickly and correctly. 🙂  (It's true — her developmental therapist tells me there are certain activities Aerin can do that most kids her age can't do for another year.)
Here's to wishing… and hoping… and thinking… and praying…
You may also like: