I never really liked our country's obsession with BMI for the obvious reasons: it doesn't take into account your bone structure, muscle vs fat ratio, or fitness level.
I'm probably biased against the BMI system because I have thick bones — my wrist circumference is 6″, which is in the thick range for my height. Heck, most women I know who are 6″ taller than me don't even have 6″ wrists! So no matter how fit I am, I will still look bigger than most people of my height due to my (literally) big bones.
So yes, I am usually on the high range of the "normal" scale of the BMI chart. And I was fine with it…
…until this morning, when I decided to bust out the ol' Wii Fit in my 22-weeks pregnant state.
As soon as the Wii Fit finished calculating my weight, it proceeded to BALLOON up my Mii (Wii avatar), and made sure to flash "Overweight" in big red letters.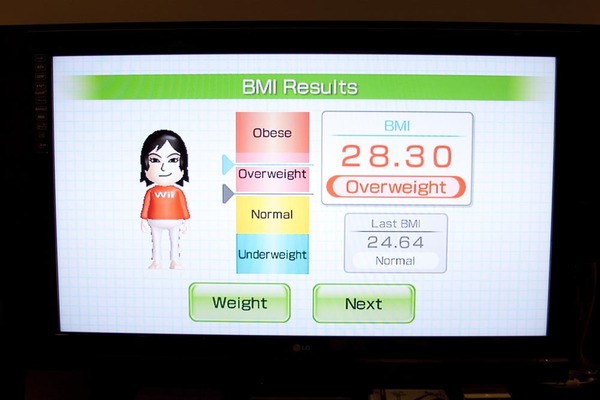 Yes, yes. I've gained quite a bit of weight. And I already know that I'm on the high range for pregnancy weight gain as well. Thanks.
Wait…it got worse.
I don't see "Pregnancy" as an option below, do you?
I decided to go with "I don't know" to see what would happen, and got this: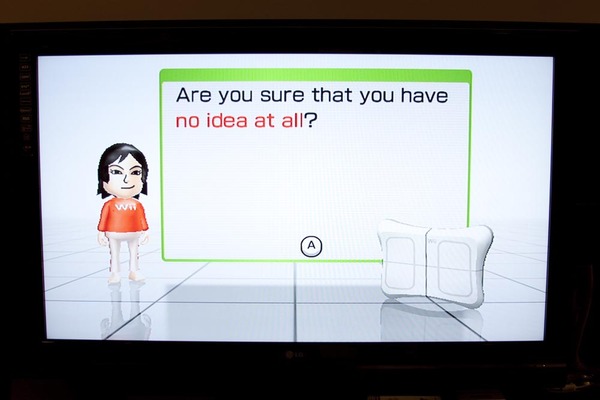 My chubby Mii questioning my reasons for becoming such a fattie. Screw you.
But who am I to criticize a video game that is aimed at kids? After all, I was the one snapping these pictures instead of actually being on the Wii Fit board, working out my ever-expanding ass.
…I think I'll lay off the Wii Fit until the baby is born.
You may also like: