Last week, BuyStarWarsCostumes.com contacted me and asked if I would be interested in reviewing a couple of their costumes.
If you're thinking that I would be stupid to turn down such an offer, you are correct.
I chose the Toddler Princess Leia costume for Claire and the Darth Vader Dog costume for Comang.
The costumes arrived over the weekend and now, for the first time in years, I am looking forward to Halloween!
I had chosen the Princess Leia costume in the toddler size, thinking that Claire might be too big for the infant size once October 31st rolls around. However, the toddler size is huge! I think that a 2 or even a 3 year old would fit comfortably in it.
After looking over the costume some more, I am happy that I decided to go for the larger size. The material is made of a plush polyester/flannel material that seems very warm and comfortable, and if we can't go out for Halloween this year (because my due date with BebeDeux is dangerously close to that date…we might even have had her by then!), we can always use the costume next year.
I managed to shorten the sleeves and tuck the torso of the costume into the belt using some safety pins, and was rewarded with with adorable shot of my daughter:
As for the Darth Vader Dog costume…well, that's a different story.
I had ordered the medium size based on the measurement on the site. (Also, Comang usually wears a medium in doggie clothes.) I had assumed that the measurement was for the dog's torso — neck to tail — but I think I might be wrong in this regard because the costume's legs were about 2x too long for Comang. Luckily, I was able to shorten it easily with some safety pins.
But Comang wasn't having it.
He hates the costume. He would bite, tug, pull, and even run around in circles to get the costume off. He especially hated the helmet — he freaked when I first put it on him and I had to remove it because I was afraid he would shred it in an effort to take it off. Here is the only semi-decent picture (and by that, one where he is not an indistinguishable blur) I could get of him wearing the costume: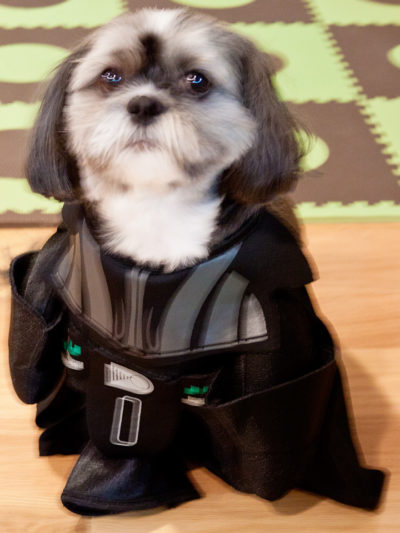 The picture is still pretty blurry, as he would not stay still. Little punk.
To be fair, we only dress him in clothes when it is cold outside. And even then, we only use snug, unobtrusive sweaters for his walks and take them off once we are back indoors. So he is definitely not used to doggie clothes, nevermind ones with headpieces and dangling appendages! I think that if you have a dog that is better used to doggie clothes, the costume would work just fine and look stinkin' cute (as evidenced by the numerous pictures of other dogs wearing it if you do a simple web search).
Despite Comang's (sometimes violent) efforts to get it off, the costume itself held up pretty well. Like the Leia costume, it seems to be pretty well-made and I want to use the time between now and October to slowly get him used to the costume.
BuyStarWarsCostumes.com seems to have a great selection of Star Wars costumes and props, with competitive prices ranging from under $10 to hundreds of dollars for authentic pieces. You can bet that I will definitely be turning to them again if we are ever in the need of additional Star Wars costumes in the future — perhaps next year, we can all dress up as a Star Wars family?
Disclaimer: The costumes in this post were provided free of charge by BuyStarWarsCostumes.com. I was not paid for this post and the reviews are my 100% honest opinion.
---
BuyStarwarsCostumes.com offers a unique collection of low priced Star Wars costumes for adults and kids. Their selection includes everything from collectible Star Wars costumes down to a toddler Yoda costume for the kids. With a knowledgeable customer service staff at hand youíre sure to find what youíre looking for.
You may also like: