I admit it – I am a total boardgame whore. I much prefer having friends over for a feisty round of Cranium over many other activities of the non-geek variety. Visitors to my house are always amazed by my collection of boardgames, and whilst I thought The Devil Wears Prada was an over-hyped, unextraordinary book, I loved the fact that the main character left her parting message to her ex-roommates on a Scrabble board.
I have owned no less than a dozen different versions of the classic game Monopoly over the years, but at the time being there are only three (the horror!) editions in possession: the Deluxe Edition; the Nintendo Collector's Edition; and the Star Wars Limited Collector's Edition, complete with a serial number, pewter game pieces, and coin pieces (whut WHUT!).
Now I must add one more to my collection.
Okay, I know that this is just a concept design, and I highly doubt that Parker Brothers will approach Andy Mangold, the designer, with intentions of mass-production.
However, just take a look at the deliciousness of this re-packaged design of the U.S.'s most beloved boardgame: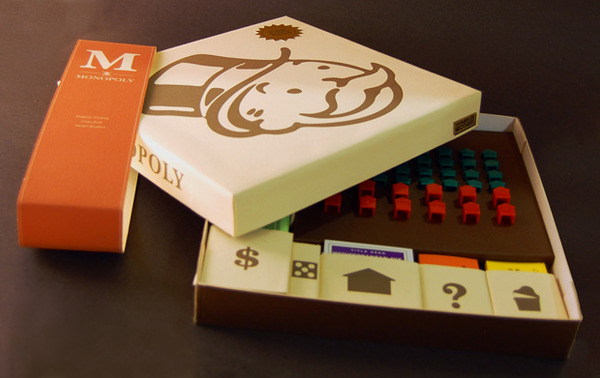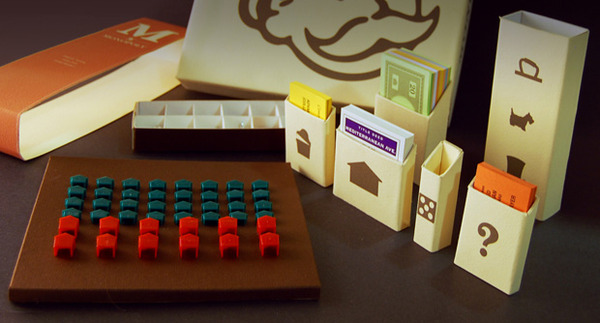 From the product page:
Monopoly, in spite being the classiest of all board games, unfortunately is packaged just as boringly and uncreatively as every other garbage board game on the shelves. So, I decided to repackage it… turning the class up to 11.

All of the boxes are made out of chocolate brown mat board and skinned in cream arches cover. The final package is just over 10″ x 10″ x 1.5″ and includes smaller containers for all of the various pieces and cards and a laser-cut holder for all of the houses and hotels.
Simply beautiful.
You may also like: