A few weeks ago, Korean beauty e-tailer Peach & Lily reached out to me and asked if I would be interested in trying some of their products.
Um…yes please? For, you know, *cough cough* research purposes. Can I have them all?
All kidding aside, I have shopped from P&L in the past and I love their product offerings. And while I would've loved to stock up on some tried-and-true items, I asked if they wouldn't mind sending me an item from Shangpree, a brand that had intrigued me since I first spotted it on their website.
Here's some background info on Shangpree from the P&L brand page:
Seoul's highly demanding spa-going elite have been flocking to the iconic Shangpree Spa for a first-class beauty experience for 25 years now. Every Shangpree esthetician must complete an incredibly lengthy and rigorous training process to ensure that they embody the spa's high standards (even an esthetician with 20+ hands-on experience is required to train the Shangpree-way for 3 years before being able to provide client services)— and when Shangpree launched their product line, that same level of perfectionism was expected in every formula.
P&L hand-delivered an incredible beauty package to my front door, and I was delighted to find not one, not two, but three Shangpree items nestled among its contents.
First up is the product that excited me most: the Shangpree Bitgoa Hue Essence Toner.
As you can see from the picture above, the Bitgoa Hue Essence Toner comes in a luxurious pump bottle. It's not glass, but it's weighty and solid, with a beautiful pearlescent white finish. I personally prefer transparent bottles so that I can see how much of the product is left, but I have read that many beauty companies forgo this route because it can lead to oxidation of the product.
The texture on the viscous side, with a slightly milky color. It absorbs into the skin beautifully, leaving it soft and supple. I like to give my skin a full minute to fully absorb the essence before moving on to the next steps of my routine.
If I had to make one complaint about the Bitgoa Hue Essence Toner, it would be the smell. It has a floral-slightly-musky scent that, for some reason, reminds me of Eternity for Men. Not to say that it smells like Eternity, but that it reminds me of the cologne that every guy I knew in my teen years doused themselves in back in the 1990s. It's not unpleasant and it dissipates fairly quickly, but I just personally prefer no scents or very very light scents.
Now, on to the performance. I initially started by adding this product after my toner in my morning routine, and after a few days I added it to my evening routine too.
To be completely honest, I wasn't too impressed by the Shangree Bitgoa Hue Essence Toner during my 2-week testing stage. I tend to expect a lot when trying products in this price range, and I just wasn't seeing a noticeable difference. Softer, smoother skin, yes, but just at a glance? No.
So imagine my surprise when I compared these "before" and "after" photos:
I took the left photo on day 1 of starting the Shangree Bitgoa Hue Essence Toner. The "after" picture was taken a little after 2 weeks of twice-daily usage.
As is the case with most women, I hate sharing bare-faced, zoomed-in photos of myself where you can see every pore and imperfection. But just look at that difference!!! (Click on it to see the large version.) My skin now is clearly more even with less visible pores and spots. The texture is noticeably smoother, and the overall tone brighter.
And as the Shangpree Bitgoa Hue Essence Toner was the only additional product I used during this period (aside from sheet masks), I feel safe in attributing the majority of the improvements to this product.
You can purchase the Shangpree Bitgoa Hue Essence Toner at Peach & Lily for $57. If this is your first purchase with them, you can get $10 off your order by using this link!
Next up is the Shangpree Gold Black Hydrogel Eye Mask! I had never tried this type of undereye mask before, so I was pleasantly surprised to find myself liking it so much.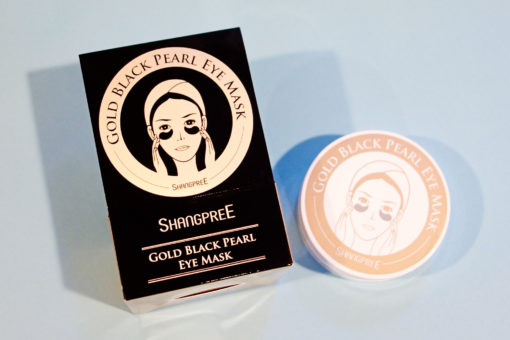 As was the case with the Shangpree Bitgoa Hue Essence Toner, the Gold Black Pearl Eye Masks come in high-quality packaging. This particular item is encased in a plastic jar, and includes an additional airtight lid and a spatula, like so:
The spatula helps separate each eye mask in a more delicate, hygienic way. Each jar holds 60 masks (or 30 pairs as most people would use 2 at a time), and there is a lot of luscious goo inside:
As you can see, each eye mask is a beautiful dark green-gold (so dark it looks black) color, with actual flecks of gold! They immediately cool my undereye area upon application and leave them refreshed, soft, and moisturized. I love to slap on a couple of these babies at night right before I go to bed, or even during the day when my eyes feel dry or tight.
I don't have fine lines (yet…knock on wood) so I can't say for certain if they help in that regard. I do, however, have dark circles under my eyes and the Shangpree Gold Black Pearl Eye Masks give me the brightening effect that whitening sheet masks are known to provide.
But are they worth the hefty $60 price tag? (That works out to $1 per mask!) Probably not. I really like them, but I would be more comfortable paying $20-30 for these.
Last, but not least, is the Shangpree Charcoal Hydrogel Mask!
I have chosen to showcase the back packaging of this mask, as this is what seems to most interest other beauty fanatics. The mask itself is a typical 2-piece hydrogel shape, placed on a white sheet of plastic and covered by a clear film.
As you can probably imagine, black masks can get some getting used to. BOO!
The mask only reached about 2/3 up my large forehead, so I used the eye cutouts on the rest. (I do the same thing with my Whamisa hydrogels!) The texture of the mask is unlike that of any other I've tried before. It is a thin hydrogel that almost seems…plastic-ky? Very soft and pliable with a shiny surface.
For the duration of the 30 minutes while I had on the mask, I would feel slight tingling here and there, which isn't unusual while sheet masking. I didn't expect too much from the mask — if anything, I purposely kept a mental distance because I didn't want to fall in love with such an expensive product…
But I fell. Hard.
The Shangpree Charcoal Hydrogel Mask is one of the best sheet masks I have ever tried, hands down. (And I have tried a lot. Did you know I've been doing #1일1팩 — where you use a mask every day — since April?)
It hydrates without leaving my face greasy. It calms irritations. It evens out my skin tone, and it really did help control oil production throughout the day! The mask left my skin so soft and so supple that I couldn't stop touching my face for the entirety of that day.
Dat $17 price tag tho. Oof.
Would I purchase the Shangpree Charcoal Hydrogel Mask for myself? Yes. (That goes to show how much I love this mask!) But I will most likely save it for special occasions. My recommendation would be to use this mask on the morning of a special event, because it really is that good!
A huge thanks to Peach & Lily for their generosity! And if you're interested in making a purchase yourself, you can get $10 off your purchase of $50 or more if you use my referral link.
(ETA: I understand that P&L is currently running a referral contest. I was not aware of this contest when I began writing this post; the fact that the contest began today is purely coincidental, and my opinions on these products are 100% my own. I actually preordered a Seoulcialite Box for myself so I'm not looking to win the contest. 🙂 However, I can always use more referral credits and that's why I used a referral link.)
You may also like: