Welcome to today's installment of Cool Tool Tuesdays, where I feature a favorite item from my life and spotlight it so that others who are not familiar with the product may also benefit from it. A cool tool can be any book, gadget, software, hardware, material, or website that I have personally tried and love.
Do you have any questions about today's cool tool? Would you like an item featured in the future? Please leave a comment to this post, or send me a message via my contact form. Enjoy!
---
Do you remember the episode of Friends titled "The One with the Baby Shower"? Yes, I know Bamboozled is an epic game show we would all like to see live on TV, but I would like to talk about the story behind the title of the episode — more specifically, the scene at the baby shower where Rachel starts to freak out about not knowing anything about babies.
Oh mom, I swear I'm not an idiot. I've read all kinds of books on pregnancy and giving birth, but I — I just didn't think to read the part about what to do when the baby comes. And — and then guess what? The baby's coming and I don't know what to do. Oh, can I throw up in my Diaper Genie?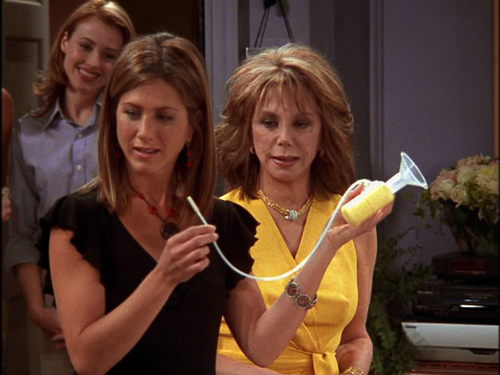 "Wait a minute. That can't be right. Is that a beer bong for a baby?"
This is actually a common problem amongst many first time parents. Even if you take baby care classes and read parenting books left and right, there is no denying that every parent goes through that moment of "Oh crap. I have NO idea what I am doing."
Like the first time J and I gave Claire a bath. Although I have babysat and even nannied for babies in the past, my responsibilities had never included bathing an infant. Needless to say, we were petrified at the thought of bathing our daughter in — gasp! — WATER for the very first time and we had no idea how to do it. Should it be a two-person job? Do we submerge her all the way up to her neck? How do we shampoo her hair without getting the soap in her eyes?
In the end, we ended up doing a YouTube search for babies being bathed. 🙂
I wish that we had the topic of today's Cool Tool Tuesdays on hand that first frantic week, because it would have saved us a lot of time and many doubts! Because today, I will be highlighting my personal favorite baby care book: The Baby Owner's Manual: Operating Instructions, Trouble-Shooting Tips, and Advice on First-Year Maintenance.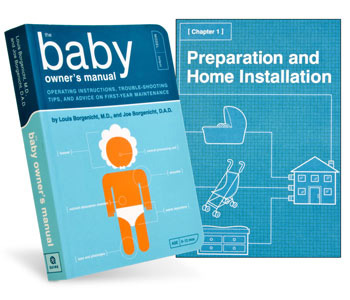 The book, written as if your baby is a product to be "maintained," is filled with facts, instructions, and diagrams that explore hundreds of questions that first-time parents may ask, in a humorous and straight-to-the-point manner.
At first glance, the book is a satire — think of a VCR manual, except with babies. But it really is filled with great tips and information from board-certified pediatrician Dr. Louis Borgenicht and his son Joe Borgenicht, who is "a first-time father who frequently telephones his dad for advice."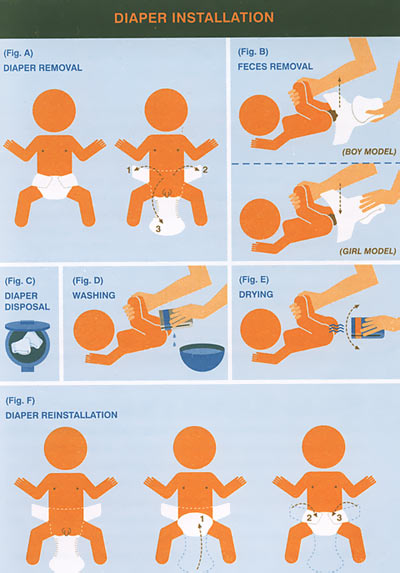 Perhaps it is due to my penchant for illustrations and diagrams. Or perhaps it is because I have no desire to read through hundreds of pages of fluff that is so prevalent with other baby care books. (Informative, yes — but still fluff when there is only ONE THING you need to know, especially when that tidbit is needed at 3am with a screaming baby in your arms.) Because as those first few weeks turned into months, I found myself reaching for this book over and over again, leaving the likes of What to Expect the First Year and Baby 411 gathering dust.
Another huge plus is that because the book is written with men in mind, they are much more likely to be receptive to it. I know that J cracked it open on more than a few occasions when he had questions that needed to be answered.
The Baby Owner's Manual is sure to make a great gift for first-time parents. The other two books in the series — The Pregnancy Instruction Manual and The Toddler Owner's Manual — look intriguing as well, and I am especially tempted by the toddler one!
Still doubtful? You can get a nice preview of the book before deciding to buy — most of the book's contents are available via Google Books!
You may also like: