My pregnancy-induced swelling has reached a point where it has become difficult to take off my wedding ring set at the end of the day.
(I'm not sure why, but I'm always fine at the beginning of the day, only to end up with fat stumpy feet and kielbasa-like fingers come nightfall. Can someone shed some light on this?)
I do not always wear my wedding ring set when I am in the house, but I always wear them when I am out. And yes, i wear both my engagement ring and my wedding band. So the very few times that I've forgotten to wear my set has left my fingers feeling naked in public. And there's the self-conscious part of me wanting to not look like a knocked-up teenager.
I have read that some women buy a cheap ring in a larger size to wear during pregnancy for this exact reason.
Have you, or do you know of someone who has gone this route during pregnancy?
After doing some research on the 'net, I've found a sterling silver, cubic zirconia ring that could be a dead ringer for my wedding ring set: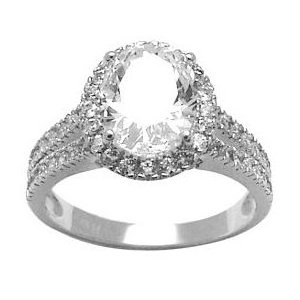 The only difference is that this ring is one ring while my set consists of two rings. (You can see my engagement ring here. My wedding band is the same exact width and style of the band of my engagement ring.)
However, the fact remains that this "placeholder" ring would cost $42. That's 42 Dollar Menu items right there, y'all!
One part of me says I'm being silly — why should I spend extra money to let the world know that I'm married for what will most likely be (knock on wood) a few short months? Some have suggested that I put my rings on a chain to wear around my neck, but I would be too paranoid about the chain snapping off.
What would you do? Just forgo wearing rings for the last months of the pregnancy? Buy the $42 "placeholder" ring?
You may also like: