These pictures have been plastered all over the web these past few days. Will Sex and the City 2 feature a flashback to the garish eighties?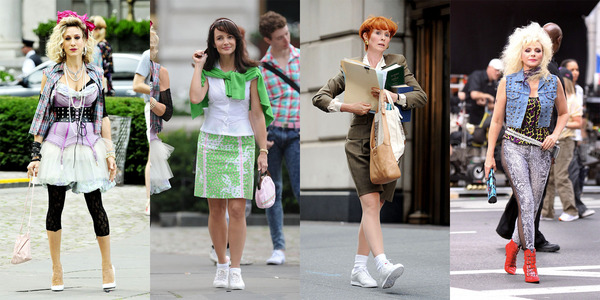 Charlotte and Miranda's outfits aren't too surprising – Charlotte has the adorably preppy Lilly Pulitzer look down pat, and Miranda has drawn the short end of the fashion stick once again. Samantha's getup is outrageous, as expected, but I was shocked by her punk outfit (maybe because I associate the 80's Kim Cattrall with the movie Mannequin). Then there's Carrie. LOVE IT. I only wish I had the guts, the ingenuity, and the body to rock an outfit like that back then!
Who else is looking forward to this sequel? I was a bit disappointed with the first movie, but you can still bet that I'll be at the theaters when the second comes out!
You may also like: