Color has a huge impact on me. I'm pretty certain that I am a tetrachromat. I often find myself mixing interesting colors in my head. I even associate people with certain colors.
Needless to say, Pantone® is a part of my everyday life – both professionally and personally. Pantone's tagline, "The color of ideas," is a personal favorite of mine because I hold it and the idea behind it to be true on so many levels. As the world's foremost authority on color, Pantone has a tremendous amount of control and influence over design and ideas.
Thus, as a tribute to Pantone, I have compiled this list:
Top Ten Pantone® Inspired Products
10. Pantone Cell Phones
9. Pantone Stairs
8. Manetone
7. Pantime
6. Pantone Coffee Mugs
5. MyCuppa Mugs
4. Colorstology
3. Pantone Fashion Color Reports
2. Rubitone
1. Pantone Color Calendar
Japanese cell phone manufacturer Softbank has created a line of cell phones in 24 Pantone swatches. The specs are nothing special, but they sure are pretty!
Source: http://mb.softbank.jp/mb/en/product/3g/812sh/
Featured in French Elle Decoration, this is a colorful, inexpensive, and expressive way to decorate your stairs.
Source: http://www.elle.fr/elle/deco/guide-shopping/tous-les-guides-shopping/detournement-pour-tout-changer/pantone/(gid)/700465
Artist Tim Fraser recreated Manet's A Bar at the Folies-Bergère using over 5,000 old Pantone paint chips.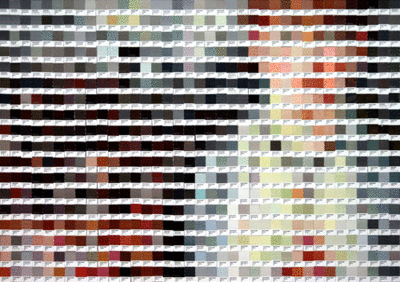 Source: http://www.timfraserbrown.co.uk/
Developed by student designer James Beattie of Bedford College, UK, Pantime is a timepiece based on the color wheel and Pantone swatches.
Source: http://swissmiss.typepad.com/weblog/2008/10/pantime.html
Caffeine and creativity often go hand-in-hand. What better way to start your day than with your own Pantone swatch-inspired mug? Unfortunately, they are not available in every Pantone swatch, but they are available in two sets: the original and 2008.
Source: http://www.w2products.com/products.builder/pantone.html
I like these better than the ones above. Because with these, you can turn drinking your coffee or tea into a game of matching hues:
Source: http://www.suck.uk.com/product.php?rangeID=76&showBar=1
I don't take much in astrology or astrology-related disciplines. However, Colorstrology is a fun Flash site that takes your birthday and gives you a short description of your personality and birthday Pantone swatch. Here is a screenshot of my birthday:
Source: http://www.colorstrology.com/
3. Pantone Fashion Color Reports
Every spring and fall, Pantone releases the Fashion Color Report to coincide with the runway shows. I am no fashionista, but I like to peruse the downloadable PDF for upcoming trends and predictions in fashion. After all, fashion has a way of seeping into general design trends as well. (As a side note, I'm not too crazy about the Spring 2009 colors…what do you think?)
Source: http://www.pantone.com/Pages/Pantone/Pantone.aspx?pg=20619&ca=4
I let out an audible gasp when I saw this last week. I just love it when designers/marketers take tried and true concepts to repackage them in fresh and clever ways!
Source: http://ignaciopilotto.wordpress.com/2008/10/26/rubitone-concept/
I had featured the Pantone Color Calendar on my blog before and I still love it just as much as the day I first saw it. The new 2009 calendar is available on Amazon for $29.95.
I couldn't find any good pictures of the insides of the 2009 calendar, so these 2008 ones will have to suffice:
Sources: http://www.amazon.com/Moritz-Zwimpfer-Colour-Calendar-2009/dp/3721206584 and http://www.aisleone.net/2007/design/colour-calendar-2008/
You may also like: