Early this morning I went in to have my blood drawn for my AFP. I had been told at my last appointment that today would be just the blood draw, and that I will come in two weeks later for a regular check-up.
Well, imagine my surprise when the visit turned into a full check-up!
I was able to meet the third and final doctor at my OB practice today, and he was warm and friendly as expected. However, when I asked him if we would be able to tell the sex of the baby today, he didn't even bother and said, "It's still too early," when I know full well that external sex organs have been distinguishable for at least a week.

I know that not every baby cooperates with the gender reveal, but he could've at least tried, you know?
The good news is that the baby is still thriving inside my tummy. The doctor said everything looks absolutely perfect, and I was able to see the baby's spinal cord for the first time today!
Here is a close-up headshot that the doc printed for me to take home:
As soon as I saw it I started cracking up, because the baby looks so alien-like. Take me to your leader, baby! Here's the same picture flipped horizontally and zoomed:
The bad news is that since I had the full check-up today, my May 3 appointment has been pushed back to May 17. J and I had been anticipating the May 3 appointment in hopes of finding out the gender, but now it looks like we'll need to wait for the 19-week anatomy scan on May 13.
Obviously we were bummed to get this news as we are both impatient people who like to find things out ASAP. We're considering getting a 3D/4D ultrasound before May 13 to find out the gender (and to see what the baby looks like in full 3D/4D detail) but we haven't decided yet. Do you think we should go for it, or just wait until the 13th?
On to this week's updates!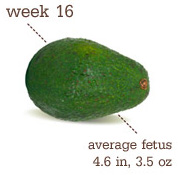 Baby, you are now almost 5″ long crown-to-rump, or about the size of an avocado (mmm looking at this picture makes me long for your father's famous guacamole!). The smallest bones in your body — the three in your ear canal — have developed and you are officially able to hear!
Over the next few weeks you are in for another big growth spurt that will double your weight and add inches to your length. Your arms and legs are almost at the same proportions as they will be at birth, and your little feet are developing itty bitty toenails.
Although you still look like an alien, the first thing I noticed when I saw you facing me today was that your eyes seem much closer together than at our 12-week NT scan. According to BabyCenter, your eyes and ears are now close to their final positions and you will only continue to look more and more human.
As for your mother? There isn't much new to report. I am still enjoying the "honeymoon trimester" and looking forward to our babymoon with great anticipation. Two days ago, I felt you move for the first time but I haven't felt anything since.

Baby, won't you move for me again? Pretty please?
I have also realized that I have not taken any belly shots so far. The travesty! I think one of the big reasons has to do with my immense weight gain during the first trimester — I still shy away from the camera as it is a constant reminder of the fatty that I've become.
Here is a shot I took pre-pregnancy (showing off my new steam perm):
And here I am, today…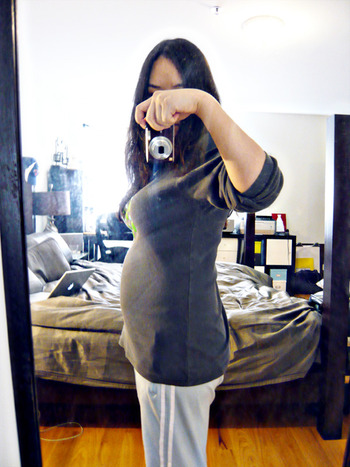 (Please excuse the dirty mirror! I promise to wipe it clean before next week's belly shot!)
As you can see I've become quite the fatty. A couple of weeks ago I saw my mother's friend whose first words to me were, "Uhmuhnah [the Korean equivalent of OMG] you gained sooo much weight!" She then proceeded to give me a lecture about how I really need to watch what I'm eating or the baby will grow too big in my belly and I will have a hard time with labor. Sigh.
Whatevs. I'm just happy that the baby is doing okay in there.
You may also like: