I am now 39 weeks pregnant and pretty miserable. Posts will continue to stay light as I continue to battle end-of-pregnancy symptoms (which include carpal tunnel so my time at the computer is limited).
I hear that the west coast is having a heat wave (one friend wrote on Facebook that it's 112 degrees right now in LA) but we are cool and WET here in the northeast. It is supposed to rain for the majority of the week and while the dreary weather has dampened my spirits somewhat, I cannot help but be reminded that whenever something significant happens in my life, it is almost always accompanied by bad weather. Moving days? Rain. Trips? Thunderstorms. Even my own birth was marked by the worst snowstorm in Korea in 20 years. And the last time I visited Korea? The country suffered the biggest snowstorm since the winter that I was born.
The only exception to this rule thus far has been my wedding day, which was bright, sunny, and simply gorgeous.
So with less than a week left until my due date and my overwhelming desire to GET THIS BABY OUT NOW, I can't help but be a bit superstitious and hope that the baby will decide to make her entrance this week in the midst of all this rain.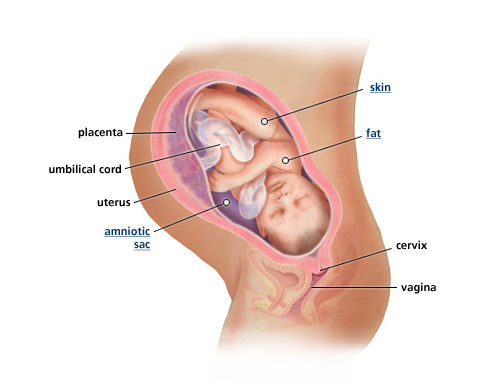 I have been feeling increased pressure "down there" (after all, experts say the baby now weighs over 7 lbs and is 20″ long) and have menstrual-like cramps all the time now. I have also been experiencing nosebleeds every day for the past week, and have been feeling pretty nauseous. Since I have my weekly OB appointment tomorrow morning, I will bring up these concerns with her and who knows? Perhaps she will do additional tests in addition to the usual heartbeat and amniotic fluid level checks to see how I am progressing.
But for now I will sit still and try my best to stay patient. And giggle over clever pictures like this:

Via The Daily What.
P.S. — I apologize to those who have submitted guest posts but have yet to hear from me. Please stay patient as I am going through them one by one, in the order I received them, and the process is taking a lot longer than I had originally thought.
You may also like: