I really, really liked our speech pathologist. She was gentle yet firm. She was kind and patient. And most importantly (at least to me), she understood that all kids are different, and that they learn in different ways and at different rates.
Unlike the ladies who did our evaluations, our speech pathologist (let's call her D) did not rush through our session. She emphasized the fact that she wants to take not only Aerin's delays, but her personality, family members, and living situation into consideration when working with her. She told me that my input is very important to her, and I loved how she employed different activities to see which Aerin liked best, and to which she seemed most responsive.
D observed that Aerin already has four strikes against her:
She is exposed to 3 different languages at home (in the therapist's experience, about 20% of children who live in multilingual homes have speech delays in these early years)
Her hearing was impaired, and is still in question (we won't see the ENT again until the end of October, and we honestly can't tell if her hearing has improved yet)
She has an older sibling with a strong, dominant personality
We, as a family, have spoiled her and babied her by regularly attending to her needs and wants in a prompt manner
"Can you blame her? It's only natural that her speech is delayed!"
It was our first session so we didn't get too much therapy done, but even after just a few activities, D noted that Aerin is a very bright little girl, and that her being able to say more than 20 words at this point is very encouraging. (She said that at 22 months old, this is on the low end, but definitely within normal range.) She gave us a bunch of tips and pointers as well as some "homework," and that was the session.
If you can recall, Aerin is supposed to have speech therapy twice a month and developmental therapy twice a week. We still haven't had any developmental therapy sessions yet due to scheduling issues, but after having had our first speech therapy session yesterday, I am more encouraged. And more motivated than ever to help my little girl as much as I can.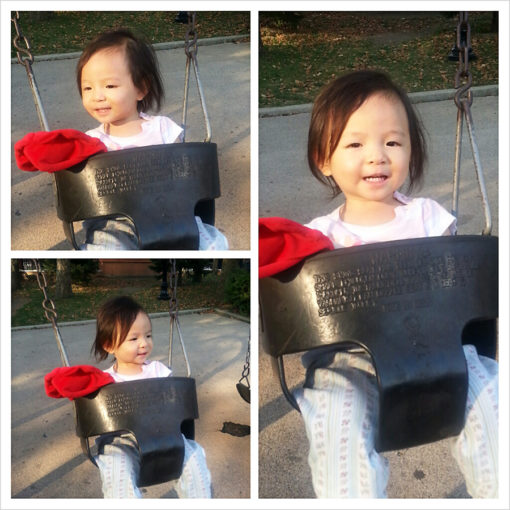 You may also like: