Having grown up in New York, I have been a New York Knicks fan since (my generation's version of) the Knicks's glory days in the 1990s. I cried when they lost the 1999 NBA Finals. Meeting Allan Houston was one of the high points of my life. And, I remained true to my boys in blue & orange despite their flat-out dismal performance for the past decade.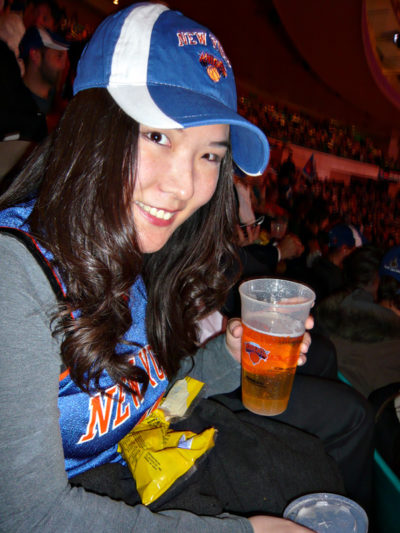 Being an Asian American myself, I couldn't help but be intrigued when the Knicks picked up Jeremy Lin in late December. I had heard good things about the Harvard grad, but remained skeptical.
I guess I have been a victim of the Knickerbocker heartache for far too long, because I continued to stay doubtful when Lin made his debut as a starter last weekend and scored 23 points against the Nets. "It's only the Nets," I thought to myself.
But it wasn't just a fluke. Because Lin then went on to score 28 points against the Utah Jazz, and then, last night, he led the Knicks past the Los Angeles Lakers with an astonishing 38 points.
I have officially hopped on the LINsanity bandwagon.
It also doesn't hurt that he is smart, humble, and a dedicated Christian. 😀
Just in case you missed it (or want to watch it over and over again like me), here are the highlights from last night's Knicks vs. Lakers game:
And, because the nerdy handshake between Jeremy Lin and teammate Landry Fields (who is a Stanford grad) is too cute:
Aside from the fact that he is amazingly good at the game, there is also the sense of Asian pride that can't be missed among my Asian-American friends. Even those whom I believed to be die-hard Lakers fans were rooting for Lin last night, and the world of social media just can't seem to get enough of him.
You also can't ignore the fact that Lin is the biggest sports topic in a city that just won the friggin' Super Bowl.
Is anyone else currently going LINsane?
All three of the Knicks jerseys I own are of players who no longer play for the team. I can't wait to pick up a new #17 jersey…but from what I hear, Jeremy Lin jerseys have been understocked and sold out everywhere. 🙁
P.S. — J and I can't decide which of the following is a better nickname for Lin: "The Flying Dumpling," or "LINja." Admittedly, they are a bit racist, but you can't deny that they're clever.
You may also like: