A few months ago, I received a surprise package in the mail: it was the book Crazy Love: Overwhelmed by a Relentless God by Francis Chan, gifted to me from my dear friend E who wished that I would gain as much from the book as she had.
I had heard of Crazy Love on various occasions in the past, and I had even had it on my Amazon wishlist for quite some time, so the gift was very much appreciated. (Thanks, E!)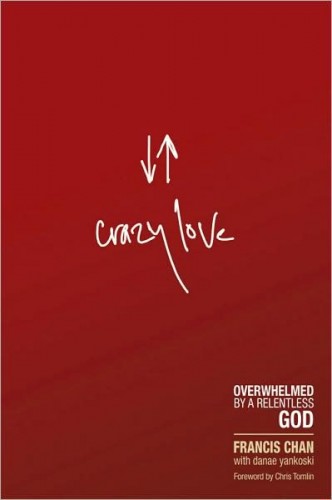 The premise behind Crazy Love is to challenge the state of complacency that plague many Christians today, and to encourage us to love God the way that He deserves to be loved. Because, as the author Pastor Chan puts it, "when you're wildly in love with someone, it changes everything."
I will not do a full review of this book as there are hundreds of it out there on the web. However, I do want to highlight five items from this book that made the most impact on me, and they are:
The movie of life is about God, not about us. So how is it possible that so many of us live as though it is about us? Who do we even think we are?
Stress and worry can be a sin. By engaging in these behaviors, we are implying that God is not powerful or loving enough to take care of what's happening in our lives, and that the things we stress about are somehow exceptional. (This is, of course, not to say that we should just sit on our butts doing nothing. We should do all we can, but trust that anything beyond that is up to God.)
We should not assume that we are the good soil. (I am referring to the parable of the sower here.) If anything, most American churchgoers are the soil that chokes the seed because of all the thorns, which is anything that distract us from God. We should not be lukewarm — we should be willing to give everything to follow Him all the way.
If anything, we should be OBSESSED with God. We should be humble and always be mindful of pride. We should care more about God's kingdom coming to this earth than being shielded from pain or discomfort. We should be more concerned with obeying God than being successful or being wealthy. (In fact, the wealthy are at a serious disadvantage spiritually.) We should give freely, and without censure. And we should not consider service a burden, because loving God's people is a way of loving God.
Making investments to this life is foolish. How much time, money, and effort do we dedicate to the things of this world? Should not our investments be to Christ and the eternal life that we share with Him? A good question to ask ourselves is, "Is this what I want to be doing when Christ returns to this world?"
This book was a HUGE wakeup call for me — especially the points about stress & worry, as well as the strikes against pride and wealth. In fact, this book is one of the reasons I started to actively make time to volunteer again.
The only possible criticism I have for Crazy Love is that some people may see it as placing too much emphasis on our deeds — in other words, a works-based salvation. However, I believe that Pastor Chan's purpose for writing this book is not so much a handbook, but a wakeup call for the Christians of America and other first-world countries.
I will end this post with a quote by Frederic D. Huntington, from Forum magazine in 1890:
It is not scientific doubt, not atheism, not pantheism, not agnosticism, that in our day and in this land is likely to quench the light of the gospel. It is a proud, sensuous, selfish, luxurious, church-going, hollow-hearted prosperity.
You may also like: