Welcome to today's installment of Reverent Sundays, where I write about an aspect of my faith. This can deal with recent books I have read on Christianity, my thoughts on religion and current issues, as well as particular messages I find touching and/or powerful. I am aware that most of my readers are not religious, and that is fine — you are more than welcome to not read these posts if they make you uncomfortable, enrage you, or bore you to tears. I am open to debates and discussions in the comments section as long as everyone remains respectful. Enjoy!
---
This weekend is a crazy one for our household (and I'm not only talking about the Superbowl). For this reason, today's Reverent Sundays will be short and to the point: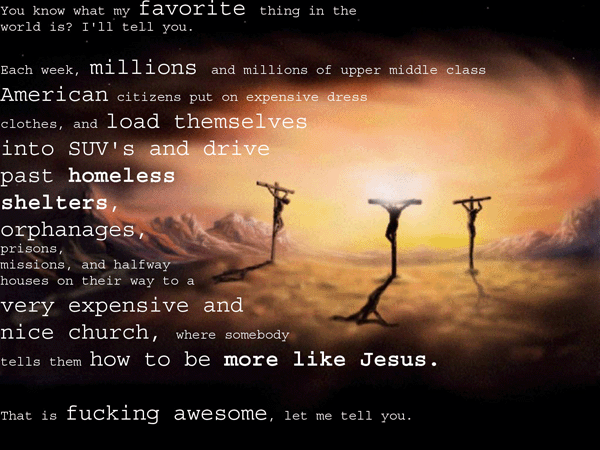 How many of you are more offended by the use of the f-word in this graphic than by its message?
(image source) 
I think an old pastor said it best when he told me, "I love Christ, and I love the Bible. But sometimes, I just hate the state of Christianity in our world, especially here in America."
Some people think all Christians should be conservative. Some people think all Christians should be liberal. This flawed thinking divides Christians from each other.
I believe all Christians should be biblical. Sometimes the Bible teaches concepts that are by nature conservative, and in those cases we should be conservative. But other times, the Bible teaches principles which by nature are liberal. In those cases we should be liberal.
So how about we stop identifying — and as a result, pigeonholing — ourselves as belonging to certain political parties or political ways of thinking, and start being true to Scripture?
You may also like: