A few years ago, J casually said to me, "You know, you should really make your blog more mobile device friendly."
"But that might ruin the design! And you know how hard I worked on it. Besides, less than 1% of my visitors are using a mobile device when they browse on over."
Did I mention that J is a software engineer and tester? That he not only once worked for the big G, he is always up-to-date (and most of the times, ahead of the curve) on the latest web trends and companies — e.g., signed up for Yelp and Twitter long before anyone else I knew even heard of them, correctly predicting that they would "blow up" — and is the go-to guy in our social circle for any web/tech-related questions?
So of course, being his wife, I completely ignored his advice. 😉
Flash forward to now. "Responsive" is currently the hottest word in web design. Web Design Ledger predicts:
Eventually, we'll all stop talking about responsive web design – not because it will go away, but because it will become what's expected.
And wouldn't you know it? Currently, about 20% of my blog's visitors hail from a mobile device.
So what does J do when I tell him that I'm thinking about a more responsive design for my blog?
"Responsive web design? Isn't that an old concept?"  
I hate it when he's right.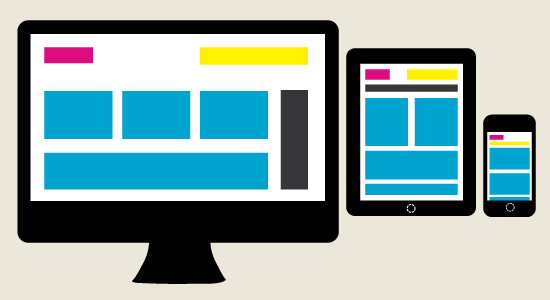 How responsive web design should work — see how the content shifts
depending on what type of device you are using to view the website?
(image source)
So, in order to keep this blog current and more user-friendly to those who visit using tablets or mobile phones —
And because I'm already hankering for a change after just seven months with this current design —
I have decided that a site redesign is in order.
I want to get this done as quickly as possible (i.e., within the next month) before J's parents go back to Hong Kong and I will have no help with the two kids.
And here is where YOU, the readers, can help!
There are currently two logistics to this redesign I have not yet quite figured out.
The first: I am seriously thinking of displaying partial posts for the front page of the blog. The reason for this is because my posts tend to be long, and/or feature large or multiple images which significantly slow down the loading speed of the site. Having partial posts on the front page will not only ensure faster loading time, but will also allow users to more easily scroll down and see additional content.
However, I personally hate it when the sites I visit do this because I would much rather see everything on one page.
What do you think? Do you prefer partial posts on the
front page, or full posts as I have now? Please vote below!
(Please keep in mind that my RSS feeds will not be affected by this change. Subscribers will still be able to see full posts when reading from Google Reader or other RSS feed aggregators.)
[poll id="3″]
The second issue involves the logo. Although I have extensive experience with helping others with their logos and branding, designing a logo is not my strong suit. And I strongly believe that a good logo is important to any brand.
I also believe that a good logo can help me with the redesign of this site by providing a certain "look and feel" and pointing me in the right direction.
So I have decided to make the investment by hiring someone to design a new logo for Geek in Heels.
I have already posted an ad on oDesk, but I was wondering..
Are you, or someone you know, interested in
designing a logo for Geek in Heels? 
Since I am short on cash, I can only pay the designer $100 USD. However, I can also offer on top of that a full year's 160×100 or 160×200 (your choice) sidebar banner ad for FREE. You can look at my site stats on my sponsorships page.
My only requirements are that the applicants should have examples of logos they have designed in the past, and that the final logo should be provided to me in EPS format.
If you are interested, please leave a comment to this post, or shoot me a message via my contact form.
As always, thanks for reading, and I can't wait to unveil to my readers my new logo and site redesign!
You may also like: