Most of my readers know that we have been teaching Claire three languages since she was born. And at this point, at 16 months of age, she understands Cantonese Chinese the best, and more than half the words she speaks are Cantonese.
I have no problem with this. I believe that Chinese — regardless of the dialect — is one of the most difficult languages to learn, and that our children having a good foundation in Chinese will not only help them more easily learn additional languages in the future (because you use both hemispheres of the brain with Chinese and other tonal languages), it may also be benficial if they choose to study music.
I actually took two semesters of Mandarin Chinese in college, but I only recall a few phrases here and there. 🙁  However, I still remember my very first class clearly, when my professor showed us how, by saying "ma" in different tones, you can ask, "Did mother scold the horse?"
媽駡馬嗎?
(mā mà mă ma?)
Despite my musical training, I still have difficulty differentiating between the different tonal sounds in the Chinese language. And while Mandarin only has 4 tones, Cantonese has between 6 and 9. The exact number depends on whom you ask, which makes it that much more difficult in this blogger's opinion.
Perhaps it is easier to learn music if a tonal language is your first language, than vice-versa? That, or I am seeking justification for my difficulty in understanding Chinese. (But then again, I have always been horrible with languages in general.)
Anyway, the real reason for this post is because I recently came across a nifty scan from a Chinese instructional book which illustrates just how difficult Chinese can be: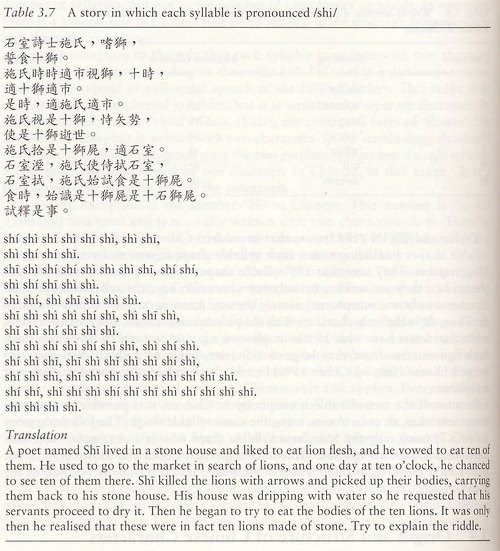 (image source)
And, just in case anyone is curious, the name of the poem is "Lion-Eating Poet in the Stone Den" by Zhao Yuanren. According to Redditor robo_t:
The poem was written in the early 20th century as both an: 1. argument against the romanization of classical Chinese 2. argument for the romanization of modern vernacular Chinese

Writing out classical Chinese often yields results like "shi shi shi shi shi shi shi", thus making it completely uncomprehensible. A few literary movements in the early twentieth century moved Chinese away from using a single syllable per word to having compound words. This language development can actually be credited with helping modernize China and closing the gap between the literary elites and the masses.

Example: Classical – 睡 – shui – to sleep Modern – 睡觉 – shui jiao – to sleep

Adding a second character clarifies the meaning by adding a verb-noun phrase!
Apparently, most Chinese people would only understand this poem if they read it, not if they heard it.
You may also like: