The U.S. Department of Agriculture states that raising a child from birth to age 17 costs, for those in the middle-income groups, anywhere from $226,800 to $264,600.
If you think that figure is large, consider the fact that those numbers do not take into account any damage (the physical kind, not emotional) the child can cause…and most kids destroy plenty of stuff.
So how much damage can a child cause? Matt J. Michel — obviously a fan after my own heart — decided to examine one extreme end of the spectrum and calculated the mischief depicted in the classic comic strip Calvin and Hobbes.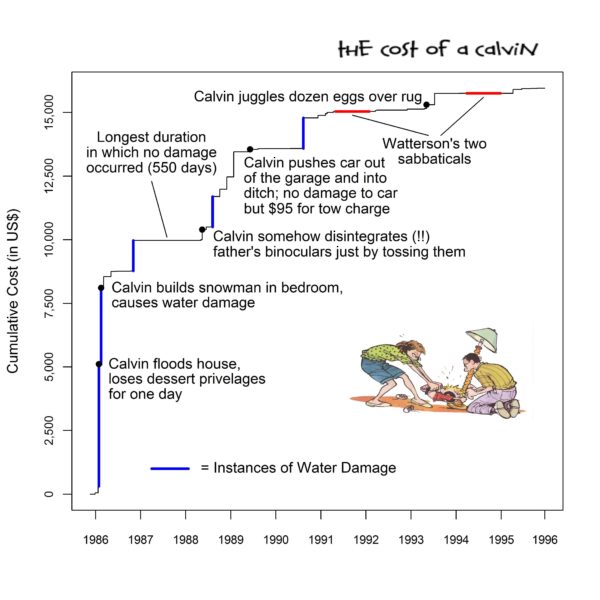 Michel painstakingly went through the entirety of The Complete Calvin and Hobbes (one of the best gifts I've ever received and something I can't wait to share with my kids) in order to tackle this task. He obviously had to take some liberties, but his methodology seems sound.
To estimate the cost from damaged goods, I searched amazon.com for comparable items, with some exceptions (e.g., Calvin's Mom seems somewhat fashionable, so when Calvin placed an incontinent toad on her sweater, I looked for a replacement on jcrew.com). To estimate cost for property damage, I used homewyse.com and fixr.com (using the zip code for Chagrin Falls, OH) [creator Bill Watterson's "rumored current residence"]. In the few instances in which a monetary value was given in the comic, I used that value.
And the final figure? Calvin caused an estimated $15,955.50 worth of damage over the 10-year duration of Calvin and Hobbes.  😯 
Michel further analyzes the data by grouping the damages caused in each month:
And by observing the figures above, he deduces that Calvin "did the most damage in January, February, and August (at a combined $11,585.83). Increased damage during these months may possibly be a reaction to the injustice of going back to school after a long break (Winter and Summer vacations)."
Interested in seeing more from his research? You can read the entire report here.
Via Gizmodo.
You may also like: