I never played with dolls as a kid.
I have memories of painstakingly cutting out elaborate paper dolls and their clothes and accessories….only to discard them once I finished. I also recall constructing Barbie houses out of cardboard boxes, books, and other items we found around the house, but lost interest once the domiciles were completed.
Claire isn't much of a doll person either. Sure, she has her giraffe, but doesn't really use him in the traditional sense of doll play.
Aerin, on the other hand…
When Aerin began to show interest in princesses last year (Ariel, in particular), I assumed it was just a phase, as Claire had gone through a similar phase at around that age.
But while Claire quickly grew out of her princess phase, Aerin remained a huge fan of Ariel. And Anna & Elsa, Rapunzel, Cinderella, Snow White, Aurora, Tiana, Jasmine…basically, all the Disney princesses!
We've collected quite a collection of Ariel dolls and figures since then. (When people ask us if there are any toys they could get for the girls, we tell them, "Anything giraffe-related for Claire, and anything Ariel-or-princess-related for Aerin.") And my younger daughter LOVES to play with her dolls.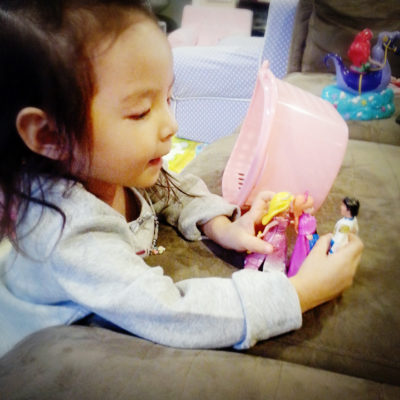 As someone who never really engaged in doll play, it's fascinating to observe Aerin playing with her dolls. She seems to make up elaborate stories and scenarios for them, as I often catch her mumbling to herself as she moves, bends, and positions them to her will.
Every now and then I catch parts of the story or conversation (mumble, mumble…"ARIEL!"…mumble, mumble…"CASTLE!"…mumble…"DANCING!").
Sometimes, she will let me join in — but I always have to be playing the part of the prince!
And once in a while, she will even compose intimate scenes for her dolls. As in, having them hug and kiss and hold hands. And judging by the duration of some of these kisses, I can't help but wonder if they're full-on making out.
It's a bit concerning when she asks me to help her take off her dolls' clothes, and does stuff like this:
She made them kiss and hug for a full 10 minutes, whilst making kissing sounds!
I seriously don't know where she learned that from — I'm being 100% honest here! I can only surmise (and hope) that this is normal doll play…right?
You may also like: