A few months after I first received my driver's license, I tried to park my car in a very tight spot and ended up scratching the adjacent car.
The scratch was barely noticeable: two faint lines just 2″ long on the corner of the bumper. I am pretty sure that if I had tried to buff it out, or even rubbed some dirt on it, the owners of the car would not have noticed the scratches for up to months after the event.
But I was riddled with guilt. So I left a note.
And my family ended up paying $500 for their new bumper.
Because leaving a note is what I have done, and because — despite my often-pessimistic outlook on life — I still like to believe that we should all treat others as we would like to be treated, I have always assumed that this is the norm.
But the past 15 years of my being a licensed driver have led me to believe otherwise.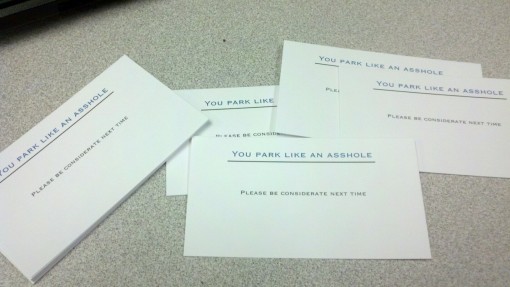 This Redditor took advantage of free business cards and had these
"You Park Like an Asshole" cards printed.
Since that fateful day circa 1996-1997, I — or more specifically, my cars — have been the victims of no less than THREE hit-and-runs. One of which left very significant damage costing approximately $6,000 in repairs. (Fortunately, my insurance picked up the majority of the tab. But they also increased my premium as a result.)
Just a couple of weeks ago, my SIL came for a visit and in the hour or so that she had left her car parked just outside our condo, someone hit her car and drove off, leaving serious damages to the left side of the vehicle.
In all four cases, no trace of a note could be found anywhere. And in my SIL's case, it was obvious that the other driver had taken some time to check out the damages, because the side mirror was pushed in without any hint of damages on or near it.
I also recall one night back in college, when my drinking buddies for the night began to brag about their own hit-and-runs.
"I figured that if the other driver can afford a Mercedes, they could afford to pay for the repairs."
"I called my dad and asked him what to do, and he told me that if no one saw me doing it, then I should just leave…so I did."
"The other driver took up TWO SPACES in a mall parking lot during holiday shopping season. So I keyed the car."
Okay, so that last one was not technically a hit-and-run. But still.
None of them had left notes. And the worst part? None of them seemed to feel any guilt. If anything, they seemed PROUD and RELIEVED that they were able to get away with these offenses.
Oh, and we can't forget about the douchebags who pretend to leave notes containing their contact information, but are only scribbling nonsense so that they look good in front of others who have witnessed the event.
What the heck happened to common courtesy?
All I know is that when my children get old enough to drive, I will be telling them this story and instructing them to do the right thing. That I would be proud of them if they were to to wait for the other driver to arrive, or at least leave a note with their contact information.
Have you ever been the victim of a hit-and-run?
Have you ever hit or scratched a car and just run off? If so, do/did you feel any guilt about it? (Don't be afraid to comment — I promise I won't judge.)
---
Today is the last day to enter my ONA Roma Camera Insert giveaway! Have you entered yet?
You may also like: