We purchased our first item for the nursery today: a crib!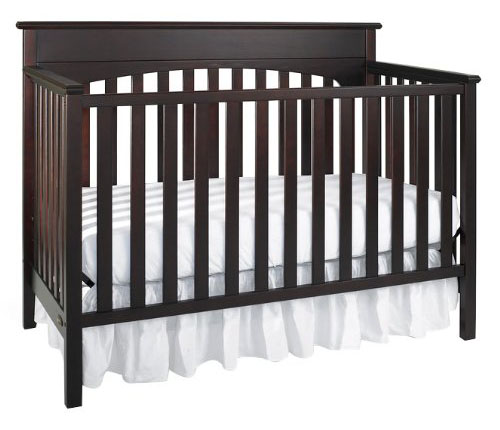 The Graco Lauren crib in espresso, to be exact.
When I first started looking at cribs I was startled at just how expensive most of them were. Especially the minimalist ones with clean simple lines, which is our style. Our own bed didn't cost $1,000 and I certainly wasn't about to spend that much on a crib.
The book Baby Bargains came to the rescue once again. As previously written, this is THE best pregnancy book I have (a big thanks to my little sister who bought it for me as a gift!) and has helped me make many money-friendly choices. Baby Bargains put the Graco Lauren as one of the best bargain cribs, and the reviews I read online helped solidify the decision.
At $169.99 (Babies"R"Us price), this crib is a steal — it is certainly one of the lowest-priced cribs out there, and its design fits in with the simple decor of our home.
At first I was a bit concerned that the crib would be flimsy due to its low price, but I found it to be solid and secure when I checked it out in person.

As expected, the crib had to be ordered by BRU and will not arrive for another few weeks. During this time I will start packing the contents of the guest bedroom into boxes. We are very fortunate that our condo building has very secure, private storage units available for rent — we will move the queen-sized guest bed, in addition to the boxes I pack into storage which is conveniently located on the second floor of our building (away from any possible water damage) and can be accessed at any time.
We will keep the existing dresser & mirror set as we convert the guest room into the nursery. I plan on placing a changing pad on top of the dresser and use the rest of the long surface area for accessories. We may also end up getting some shelves (like the IKEA Expedit) for additional storage, but we haven't come to a final decision yet.
As for the item that so many new moms count as a must-have addition to any nursery — a rocker/glider — I was still not sure if I needed one. Couldn't I just nurse on the couch or on my own bed? However, my mother insisted on buying something nice for the baby and I figured that having one couldn't hurt. I decided on the Newco Jayden Recliner (in beige) earlier today. It rocks, glides, and reclines (at two levels, no less) and the seat is shallow enough for my short self to sit in comfortably. J likes it so much that he says we should keep it in the living room instead of the the nursery! (Undoubtedly so that he can relax in it with a beer when I'm not using it myself.)
There are now less than 3 months to go before my due date. I still haven't noticed any "nesting" instincts kick in — as I'm finding just writing this post exhausting — and I'm not sure if I ever will. However, I'm glad that we are finally getting started.
You may also like: