As much as I love the holidays, I'm the type to get irritated to see Christmas decorations up in public or to hear holiday songs on the radio before the month of December. So it comes as no surprise that I nodded in agreement as I read the following guest post from contributor Terri — Thanksgiving really does seem to get the short end of the stick this time of the year!
What do you guys think? Do you gloss over Thanksgiving in favor of the December holidays? Or do you look forward to Thanksgiving with as much enthusiasm and excitement as Terri and I?
---
Whatever happened to Thanksgiving? This is one of my favorite holidays by far, but I've been noticing a decidedly different tone surrounding it in the past few years. Thanksgiving seems to get the short end of the stick when it comes to coverage and attention in the media and our culture until a day or two before. If you didn't know it, you'd think there was a holiday lull between Halloween and Christmas. I could have sworn on November 1 that I saw a commercial with bells jingling, splashes of red and green and someone resembling a Santa. Oh. Heck. Nah.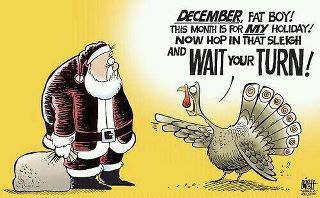 Perhaps I'm making this all up, but I guess there is a little sadness in my heart that Thanksgiving doesn't get the attention it deserves these days like Halloween or Christmas. As an only child growing up with a single mother, the holidays, beginning with Thanksgiving, were one of my favorite times of the year because I got to feel like I was a part of a large family. It's not that I don't have extended family, but most of them were born in and live in other countries where Thanksgiving doesn't even exist. It's just another Thursday in November to them (although they do acknowledge our day off and celebration with a little jealousy). 
My mother and I would get together at my godmother's home, and she sometimes had up to 30 people over just for Thanksgiving dinner. One year, there was even a DJ and a party in the basement. Seriously! While I enjoyed my singleton childhood, it was fun to feel as if you were a central part of some bigger family holiday. It felt like I was celebrating an ideal and joining in something bigger than just our tight-knit two person household. 
I don't know why we'd want to overlook a holiday like Thanksgiving, since it brings us all together. It doesn't necessarily have the religious connotations that Christmas has, and who doesn't want to be grateful and thankful for a day? It also doesn't have the overt patriotism of Independence Day (yes, I know there are some politics at play with Thanksgiving, too). To me, it's one of the few holidays in the U.S.A. that can cut through all of our differences whether we're Christian, Muslim, an immigrant or can trace our family back to the founding of the country. Thanksgiving is a holiday for everyone. 
Since everyone can celebrate Thanksgiving, I love that over time the perception of Thanksgiving food has changed, too. I like the fact there are quintessential traditional Thanksgiving dishes we can count on, but we take each of these dishes and make them our own, kind of like our American experience. Everyone with their cultures and experiences has added a little something here and a little something there to change what is customary about the proper Thanksgiving meal, but it's still all uniquely American.
I'm no longer attending the big Thanksgiving dinners that I'm used to, but that's in part because the baton has been passed to me. I made and hosted my first Thanksgiving dinner last year. Feel free to take a look at what I made for dinner. Whether or not Thanksgiving gets short shrift, it will still have the all important 3 Fs: food, family and football. That's my kind of holiday!
---
About the Author:
Terri writes the blog Try Anything Once, which chronicles her local, national, and international food and travel adventures and everything in between. She can usually be found tweaking her list of restaurants to try, watching DVR'ed episodes of Top Chef, dreaming about her next trip, and tweeting way too much.
You may also like: