Sometimes the worst thing you can do for a person suffering from depression is to leave him or her alone.
I am well aware of this fact. However, as a natural introvert I shy away from company and gravitate toward the comforts of solitude. Where I can be alone with my thoughts of despair and disarray.
So it is fortunate timing that I am no longer alone 24×7.
Wait, not fortunate, but gracious.
God must've known this would come up. You can never get anything past Him, I tell ya.
Well before our coming forth with my depression, our pastor's family asked two favors of us, both of which can only help me on my way to recovery.
The first was to ask me to come help babysit their 4-month-old son a couple of days a week.

Picture taken two days ago. Yep, he's at that stage where
he wants to put everything and anything into his mouth.
Isn't he the cutest little thing? I still remember seeing him at the hospital right after he was born and marveling at how tiny he was (he was a preemie). Now, he is at normal height and weight, reacting to stimuli and gurgling and crying just like the rest of 'em.
I start babysitting next week. I think that getting out of the house on a semi-regular basis will definitely help establish a routine and a peace of mind. In addition, having someone be entirely reliant on me can only help reset my priorities.
The second favor involves someone I've written about before…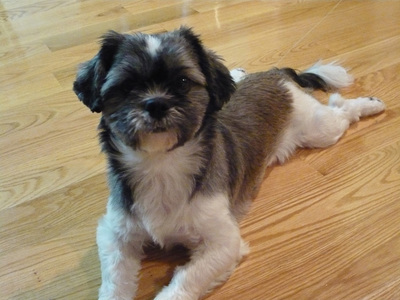 Yes, Comang the shih-tzu is back! And this time, for good. With the baby and a new apartment in a high-rise building, our pastor and his wife decided that it would be best for the dog to go to another family.
Forcing myself to walk Comang twice a day, clean up after him, and play with him does keep my mind away from its usual gloom and doom. Plus, it is a proven fact that dog owners are generally happier and healthier people. 
You may also like: