We just returned from my second appointment.
Ladies and gentlemen: we have a due date! Tater Tot is due April 22, 2010. So there's still a chance of it being born on our second wedding anniversary (4/18/2010).
…I just hope it's not born on four-twenty. When I voiced my concern, the Sperm Donor laughed and said "That'd be AWESOME!"
Yeah, buddy. You just wait and see when the baby comes out of my woo-woo with a blunt hanging from its lips.
This time around, they gave us a copy of the ultrasound:
I can't believe how much it's grown in just two weeks. Last time, all we saw was a black circle representing the embryonic sac. Now we can see a vague representation of Tater Tot (the white bean-like blob)!
The best part? I saw the heart beating!!! It was completely magical and I couldn't help but be enthralled by the tiny little movements.
According to BabyZone, Tater Tot is about the size of a pea and looks like this: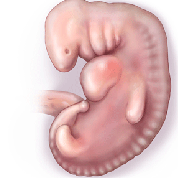 It looks less like a seahorse but more like the alien from the Alien movies.
You may also like: