I am of the opinion that one cannot have too many comfy t-shirts. And if that shirt has a geeky or witty design on it? More the better!
So when the online apparel store T-Shirts.com contacted me about doing a review, I didn't hesitate. How can I say no to a company that lists Star Wars as one of its categories?
The site was well-organized and had a great inventory of t-shirts in practically every category imaginable…they even carried solid-color t-shirts as well as custom designs! I especially liked the "Fabric Softness Gauge" on every product page. 🙂
Although there were tons of designs I would love to own (Something geeky? Something featuring the Knicks or the Ravens?), my eyes immediately gravitated toward a R2-D2 womens t-shirt for its simple yet unmistakable design:
I received the shirt the following week and was pleasantly surprised by its soft fabric and terrific cut. Here I am, trying my best at not looking like a dork while modeling my new Star Wars t-shirt (I'm wearing a small):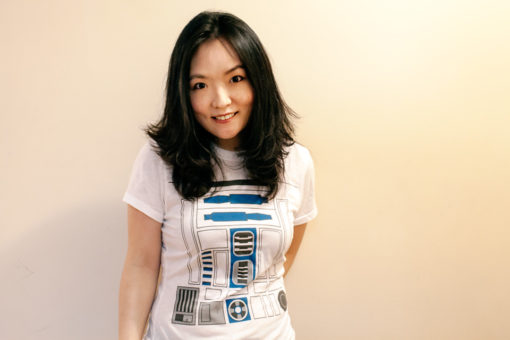 Now, for the best part…
T-Shirts.com has generously offered to give a FREE t-shirt to one of my readers!
This would make a perfect gift for a loved one with the holidays coming up, don't you think? (You could also choose to get a shirt for yourself, of course.)
To enter this giveaway, simply use the Rafflecopter widget below. Not sure how to use Rafflecopter? Watch this 52 second video for a tutorial on how to enter a giveaway using Rafflecopter. There are 6 methods of entry, with the first method (commenting on this blog post) being mandatory while the fourth method (Tweeting about the giveaway) can be used once per day:
This giveaway will end on Sunday, December 10th, 2012, at 12:01am, at which point a winner will be randomly chosen and announced here.
Please use a valid email address and/or Twitter handle so that I can contact you if you win!
Sorry, this giveaway is open only to residents of the United States.
Good luck, and thank you for entering!
You may also like: