Webempires is a neat tool that aims to visualize the traffic of every website on the web. Basing its figures on the popular traffic aggregator Alexa, the site can be used to answer questions such as:
What if your website was a country?
What if all your visitors gathered in one place?
And more!
As of today, Alexa lists this blog as having 9,537 visitors per day. So if Geekinheels.com were a country, it would be larger than Montserrat!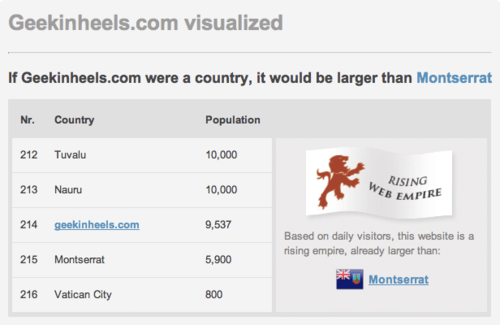 And if all the daily visitors were to gather in one place at the same time, it would surpass the number of people who gathered to break the Guinness World Record for the most people simultaneously making snow angels in one place:
How does your site, or another favorite website compare?
Via Neatorama.
You may also like: