In my introduction post, I revealed how Korean women can use 14-17 skincare products throughout a typical day. And if you're anything like me, you're probably wondering what you could possibly do to your skin aside from cleanse and moisturize!
Luckily, for the clueless like myself, Charlotte Cho of Soko Glam has shared with us a wonderful tutorial on The 10-Step Korean Skincare Routine. No, you do not have to follow the steps to the T, nor do you have to use the exact products mentioned in the article. And some of the items (like masks) are not meant to used every day.
Additionally, because many Korean skincare products — especially emulsions and serums — tend to target only one or two skincare issues (but are usually really good at it!), many women prefer to layer multiple products, or create their own unique cocktails…hence adding up to the 14-17 number.
For myself, because I am a newbie who is prone to silly mishaps (I have cut myself with my hair on several occasions!), and because I am a busy mother of 2 young kids who always seems to be short on time, I only decided to add a few additional items to my daily skincare routine.
But like I said in the introduction post, even those few have made a tremendous difference to my skin!
Let's start, shall we?
Missha Time Revolution The First Treatment Essence, $49 ($25.57 on Amazon)

I first learned about this product when a beauty blogger compared it to the super-popular (and super-expensive, at $165 for the same amount) SK-II Facial Treatment Essence. Upon doing some research, I learned that many consider the Missha version to be a dupe of the SK-II…and some even prefer the performance of the less expensive treatment!
I have never tried the SK-II essence so I can't say much on the comparison. Additionally, I have never used essence before so there may exist products far more superior than the Missha First Treatment Essence.
However, adding this to my daily skincare routine (2x a day, right after cleansing) has made the most immediate improvements to my skin — mostly, adding to the softness and smoothness and diminishing the sebaceous filaments on my nose. Sure, it is the most expensive beauty item I purchased in Korea (IIRC, I paid ₩42,000, or about $41), but it has singlehandedly made me question why I had only used moisturizers in the past.
Innisfree Eco Science Eye Cream, $29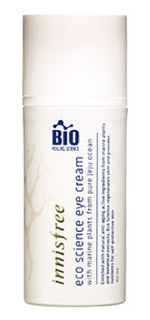 Innisfree is a brand that is well-known in Korea for its natural ingredients that derive from and around the beautiful Jeju Island. And while it is primarily a skincare company (I have heard wonderful things about its Super Volcanic Pore Clay Mask, which is a best-seller in Korea), it has recently started to delve into makeup products as well, with rave results.
(My friend, who accompanied me to an Innisfree store, told me that the Mineral Stick Concealer is a favorite among her friends, and I actually ended up getting a jar of the richer, denser Mineral Perfect Concealer for my sister. I also bought for her a bunch of products from their The Minimum line, which is targeted for sensitive skin.)
I had done a bit of research on affordable Korean eye creams before my trip, and wanted to try this out because it has received great reviews and was an Allure Korea "best of" product.
I love that this eye cream comes in a sanitary pump bottle, and one pump dispenses the perfect amount for both eyes. Innisfree products tend to have a slightly medicine-y smell which can take some getting used to, but it is not unpleasant. Upon application, the cream immediately cools and de-puffs. It is rich but not greasy, and settles into the skin beautifully. I can't say anything about line prevention, but I do know that the skin around my eyes has become softer and more even since I started using it. All in all, I love it!
Nature Republic Super Aqua Max creams, $22

The same friend who recommended the Innisfree products mentioned above introduced me to the Nature Republic Super Aqua Max creams when I told her I was looking for a good daytime lotion.
The creams are targeted for three skin types: the Combination Watery Cream (green) is for combination skin, the Fresh Watery Cream (blue) is for oily skin, while the Moisture Watery Cream (red) is for dry skin.
I am currently using the Fresh Watery Cream (the blue bottle) because my skin tends to get oily in the summer. And can I just say that this cream is AMAZEBALLS?!! It has a gel-like consistency which immediately cools upon application, and sinks marvelously into my skin. My t-zone seems a lot less oily now — even in this heat and humidity! — while my face stays hydrated, and I believe this cream is the primary reason why.
I plan on using the Combination Watery Cream (green) when the weather gets cooler and my skin reverts to its combination state. I'm still in awe that a $22 cream is performing better than the $100+ (western) creams I have used in the past!
To be continued…
---
see:
Korean Beauty Haul: Introduction
Korean Beauty Haul: My Favorite Products, Part 2
Korean Beauty Haul: My Favorite Products, Part 3
You may also like: