see:
Korean Beauty Haul: Introduction
Korean Beauty Haul: My Favorite Products, Part 1
Korean Beauty Haul: My Favorite Products, Part 2
---
Sheet Masks, prices vary

Sheet masks are sheets of cloth or thick paper — with appropriate cutouts for the eyes and nose — that are soaked with skin-improving chemicals. Although the instructions for each mask varies between each brand and type, they usually are to be left in place for a period of 10-20 minutes, and upon removal, the leftover liquid to be patted or massaged into the face.
(XOVain calls Korea sheet masks the "Lazy (Broke) Girl's Facial." 😛  You can also check out The Beauty Department's "Sheet Masks 101" article for a bit more information and their recommendations.)
Like most other Korean skincare products, every mask serves to target specific skincare issues. The good news is that they're available everywhere in Korea (practically every beauty brand has their own line, and even convenience stores carry them), and they're usually inexpensive; many are less than ₩2,000, or less than $2 each.
I wish I could recommend some specific sheet masks, but since I only just started using them myself, I'm still a n00b on the topic. 😐  What I can say is that I bought a crapload of sheet masks of various brands while I was in Korea— mostly anything that was on sale in the shops — and I have loved every single one I've tried. I also purchased for my mother a set of high-quality snail masks (snail mucus has been all the rage in Korea for a few years now) and she loves them too.
As sheet masks have become such a ubiquitous part of Korean culture, you can easily find them at Korean grocery stores here in the U.S., or other places that carry Korean products. There's also the fact that many Korean beauty brands that are venturing out onto U.S. soil carry sheet masks: The Face Shop, Missha, Skinfood, and Sulwhasoo, to name a few. And, as with practically every Korean beauty product, Amazon and eBay are safe bets too.
Foot Peeling Masks, prices vary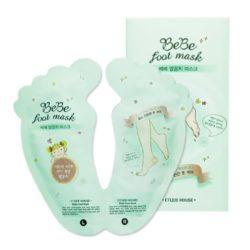 Along a similar line to facial sheet masks are foot peeling masks. I first read about Baby Foot, a Japanese foot mask brand that is now available in the U.S., in Allure last year and I was very tempted to try it. Unfortunately, I was attending yoga classes regularly at the time and I didn't want to shed my dead foot skin all over my yoga mat. 😎  
But when I saw foot peeling masks in beauty stores all over Korea…
And I saw that most cost less than ₩5,000 (less than $5) compared to Baby Foot's $30…
I knew I had to pick some up.
…To be completely honest, I still haven't tried a foot peeling mask. But you can read reviews of them all over the web (warning: the pictures can be pretty gross!) like this hilarious one over at XOJane. Additionally, I know that Korean beauty companies are great at taking a tried-and-true product, reformulating it for the better, and distributing them at (usually) lower price points. So I'm pretty confident that if you purchase a foot peeling mask by reputable brands like Etude House, Tony Moly, or  The Face Shop, they would give similar, if not the same, results as Baby Foot.
(Perhaps I will do a future post on my first foot peeling mask experience?)
Missha Mild Essence Sun Milk, $18 ($17 at Soko Glam)

I first read about this product at the Soko Glam Blog, and I decided to pick up a bottle in Korea since my EltaMD (reviewed here) was running low.
Compared to the EltaMD, the Missha is runnier and has a floral scent (the EltaMD is unscented). Oh, and the Missha has essence as part of the formula (and I know that Missha makes some kickass essence 😉 ) — added skin benefits FTW!
But to me, the biggest advantage that the Missha has over the EltaMD is the price. $17 vs $30? It's no contest.
I actually picked up a bottle of the men's version of this sunblock, the Missha Sun Milk for Men, for my father and he really likes it as well. 🙂 (Unfortunately, the Missha US site doesn't carry this item. You can buy it on Amazon for ~$20.)
Clio Waterproof Pen Liner, $15

This is an item I've purchased and enjoyed prior to my trip to Korea, and I can't believe I've never mentioned it here before!
This pen eyeliner is a best-seller in both Korea and Japan, and even has been touted as "the best eyeliner in the world." When I picked up an extra on my trip to Korea, my cousin, who accompanied me to the Clio store, tried it out and got hooked too.
And while I already have an HG eyeliner — the Milani Infinite in Unlimited, a replacement for the discontinued MAC Liquidlast — when I want a sharp, precise line, nothing can beat a pen liner. And this is the best I've found. (I like it even better than the popular Stila All Day Waterproof Liquid Eyeliner!)
Because this eyeliner is so popular in Asia, you can easily find them in Korean or Japanese stores. Amazon sells them for pretty cheap, but they're usually shipped from Asia so may take a while to arrive. Fortunately, for those who prefer their items to be shipped from the U.S., Soko Glam carries the Clio Pen Liner for $15 (check out all the rave reviews on the product page!).
Etude House products

I can't name just one product from Etude House, because there are too many I like!
Etude House is a reputable brand in Korea that is known for not only having quality products, but its oh-so-cute stores and adorable product packaging. (Here's an example of a typical Etude House store.)
Some of their most popular makeup products include the Dear Girls Cute Eye Maker, Magic Any Cushion, Lovely Cookie Blusher, and Precious Mineral BB Compact. I have tried all of these items (and bought some of them) in Korea and I can personally attest to their quality!
Etude House is also well-known for its Collagen Moistfull skincare line. I have heard wonderful things about its cream and emulsion, and the only reason I didn't purchase any is because they're more geared for those with dry skin.
Freshlook Illuminate Daily Disposable Contact Lenses, ~$30 per box of 30

These aren't necessarily beauty products, per se, but I thought they deserved a mention since circle lenses are partly cosmetic and I've mentioned them numerous times in the past.
Oh, and because they've become my new favorite daily lenses.

With a 69% water content, the Freshlook Illuminate Dailies are by far, THE most comfortable contact lenses I've worn in my lifetime. In comparison, my regular lenses, the Proclear 1-Day Disposables — which my optometrist also uses for its superior comfort — have a 60% water content. (The higher the water content, the thinner and generally more comfortable the lenses. The downside? The lenses can be flimsy and can tear easily.)
They're especially designed for Asian eyes for the most natural look and very minimal enlargement. In fact, many reviewers state that they can't notice any enlargement of their irises. For me, however, because I have small irises, the before-and-after effect is very similar to the one in the promotional picture above: minimal enlargement with an extra sparkle to the eyes. 😀  
The Freshlook Illuminates come in three colors: black, rich brown, and light brown. I use rich brown and it blends with my natural eyes so well that you can't tell I'm wearing contact lenses unless you're inches away from my face. The last shade, light brown, is a new one that was released this year, and I want to give that a try next time I order lenses.
P.S. — Many Koreans (and SNSD fans everywhere) may recognize these lenses because Yoona is a spokesperson for the line. You can see a print ad here and a TV commercial here. 😉  
---
That's it for my Korean Beauty Haul series! I hope you've enjoyed these posts, and please let me know if you have any questions!
You may also like: