Sheet masks have become pretty ubiquitous by now, wouldn't you say? I myself have been exploring new brands and types, reading up on the latest trends/gimmicks (animal or kabuki sheet masks, anyone?), and investigating the best-reviewed masks per my usual researcher self.
And my favorite types of masks, so far, have been the hydrogel masks. (Read Forget Sheet Masks, Hydrogel Masks Are the Next Best Asian Import for more details on these slimy goodies.) Hydrogel masks may already be old news in Korea, but they are still pretty new to us folks stateside.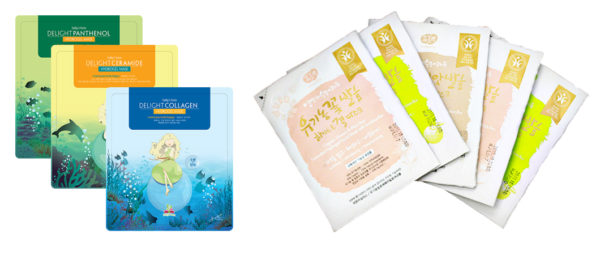 I unfortunately have not tried a lot of hydrogel masks as they are more expensive than your traditional sheet masks. However, among the ones I have tried, the two lines pictured above are my favorites: Sally's Box Delight Hydrogel Masks (in Panthenol, Ceramide, and Collagen — $12 for a pack of 3), and Whamisa Fermented Hydrogel Masks (in Organic Flowers & Aloe Vera, Organic Seeds & Rice, and Organic Fruits & Tomato — $9 each). Each time I use these masks, my skin instantly becomes more radiant and plump with an unmistakable glow.
Next up are three makeup items:
Clockwise from the top: Skinfood Mushroom Multi-Care BB Cream SPF20PA+, The Saem Saemmul Tint Aqua, and Clio Waterproof Pencil Liner.
All three products have one thing in common, and it is that they're pretty old (at least in this fast-paced world of Asian beauty). And I love discovering old products that aren't too well known, don't you?
The Skinfood Mushroom Multi-Care BB Cream is a BB cream I had been meaning to try ever since I first discovered BB creams 5 years ago. The reason I wanted to give this a go is because I had read that it is a good choice for those with combo/oily skin. And it is. This has replaced the Missha Perfect Cover as my favorite BB cream for its beautiful medium coverage, velvety finish, and longevity with minimal greasiness by the end of the day.
I still use (and love) my HG foundation, but I like to switch back and forth between the Kevyn Aucoin, the Skinfood Mushroom BB Cream, and the Innisfree Long Wear Cushion depending on my mood and the type of coverage I require that day.
Price: $10-$15 on Amazon, $10-$12 from Korean e-stores and eBay sellers
The next product is The Saem Saemmul Tint Aqua. It's not an HG status lip tint (and to be honest it smells a bit like cough syrup, which fortunately dissipates quickly), but I wanted to include it among my favorites for its color and packaging. I personally feel that most lip tints, especially Korean ones, are wayyyy too bright for my taste. Even the ones that more muted are either too red, too pink, too orange, etc.
But the Saemmul Tint Aqua in Red is THE perfect color for me — a great blend of red, orange, and pink that produces a fabulous MLBB-with-a-kick on me. And the fact that it goes on so sheer (yet buildable) makes it so easy to use and mistake-proof.
As for the packaging? Although the formula is more liquid than gel, the opening is fashioned in such a way that nothing spills/leaks out when the bottle is knocked over — only the wand can seem to get the tint out! And, as the mother of 2 young kids, one of whom loves to get into everything and make messes (ahem, Aerin), I can personally attest that my bottle of the Saemmul Tint Aqua has been knocked over, lay on its side with the cover off, and even been held upside down without a drop escaping.
Price: $6.99 from this US eBay seller, $6.31 from W2Beauty, $3.08 from KoreaDepart  
Next, we come to the Clio Waterproof Pencil Liner. This is NOT to be confused for the über-popular Clio Gelpresso Waterproof Pencil Gel Liner. It is a much less known member of the Clio eyeliner family that has been all the rage throughout Asia for the past couple of years.
Like the Saemmul Tint Aqua above, the Clio Waterproof Pencil Liner is not an HG liner for me. But for some reason, gel liners do not work well on me — they always leave me with raccoon eyes by the end of the day — and this eyeliner is the best pencil liner I've tried in terms of longevity. Sure, the texture is not quite as smooth as gel liners and so can be a bit difficult to apply. But I can easily blend it with an angled brush, and once I set it with my Innisfree No Sebum Mineral Powder, it's on and stays on until I remove it with makeup remover.
Price: $11.20 from this US eBay seller, $18 from Urban Outfitters
Lastly, we come to the tools.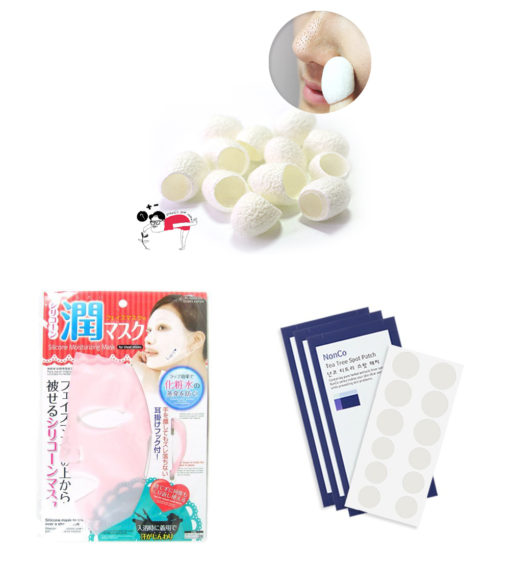 Clockwise from the top: COSRX Blackhead Silk Finger Ball, A'Pieu NonCo Tea Tree Spot Patch, and Daiso Japan Reusable Silicon Mask Cover for Sheet Mask.
Are you intrigued by those white finger coverings? I know that I was, when I first stumbled upon this product. The COSRX Blackhead Silk Finger Ball is made of 100% natural silk and natural protein sericin, and is designed to remove blackheads and sebum from your nose.
(And yes, the photo of the nose they use is obviously photoshopped with blackheads. The trypophobia sufferer in me shivers in fear and disgust.)
To use this blackhead remover, you soak a single finger ball in warm water for 2-3 minutes. And once it softens, you gently rub it over your nose.
Now, I dunno if this is all in my head — I have no idea if it's really removing blackheads or not — but whenever I use this little device on my nose, the area where my nose meets my face, and in the inner corners of my eyebrows, the three areas where the skin is always the roughest and bumpiest, my skin always comes out soooo smooth. Like, glass smooth.
Price: $11.75 from Jolse, ~$5 from Korean eBay sellers 
Next up is the A'Pieu NonCo Tea Tree Spot Patch. I decided to get these after reading Battle of the Blemish Patches and Review and Comparison: 5 Different Korean Anti-Acne Blemish Patches. Both reviewers rated these patches as the best of the bunch!
And these really work great at de-flaming and healing pimples overnight — better than the Missha Speedy Solution Anti Trouble Patch Set, which I had been using before.
Price: $3-$4 (for a pack of 3) from Korean e-stores and eBay sellers
Last but not least is an item that resembles a serial killer mask: the Daiso Japan Reusable Silicon Mask Cover for Sheet Mask. Did you see me post this selfie on Instagram a few nights ago?
This reusable silicon mask is meant to be placed over your sheet mask to help prevent evaporation. It also works double duty to ensure that your mask stays flat against your face without moving around or peeling off. In other words, you can do other activities while sheet masking! You can walk around, do chores, talk, and even eat!
The Daiso Silicon Mask is kept in place with loops that go over your ears. And it is somewhat adjustable — there are marks around the ear loops where you can cut off extra material if the mask is too tight for you.
I sooo wish there was a Daiso — sorta like a Japanese dollar store — nearby, because apparently there are all sorts of goodies (Asian beauty related and not) you can get there for really cheap!
Price: <$2 at Daiso, $6.59 on Amazon
Stay tuned for part 3 of this series: products that are supposed to be amazing that I haven't gotten in the mail yet!
You may also like: