see:
Korean Beauty Haul: Introduction
Korean Beauty Haul: My Favorite Products, Part 1
Korean Beauty Haul: My Favorite Products, Part 3
---
Laneige Water Sleeping Pack_EX, ($23 at Target)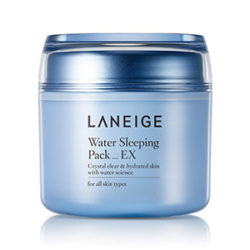 (As far as I can tell, the Water Sleeping Pack_EX is the Asian version of the American Water Sleeping Mask — same formulation but different names. If I am wrong, please correct me.)
I've wanted to try this "sleeping mask" ever since Target began to carry Laneige, a popular Korean beauty brand, earlier this year. This is supposedly one of Laneige's best-selling products across all of Asia, and after a couple of weeks' use, I can definitely see why!
The Water Sleeping Pack_EX is a thick cream that looks like a translucent blue gel. It glides on smoothly and absorbs quickly, and is meant to be used 2-3x a week as you sleep overnight. In fact, the instructions come with a little diagram of how you should massage it into your face!
That being said, because I'm a lazy bum, I use this product in lieu of a night cream every night. (I don't do the massage either; I just haphazardly slather it over my face and neck. 😛 ) So far I haven't noticed any harm in using the sleeping mask more often than instructed; I still wake up with firmer, softer, and more supple skin every morning. 🙂
My cousin decided to try this after she saw me buy it, and she loves it too!
Innisfree Long Wear Cushion SPF50+/PA+++, ~$20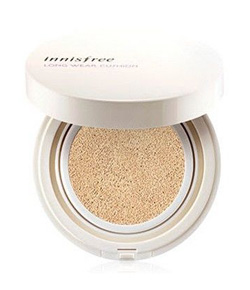 Did ya hear? After the proliferation of BB creams, air cushion makeup (a sponge soaked with foundation enclosed in a compact) is the next big thing to come from the Korean beauty industry. In fact, at the height of its popularity, an IOPE Air Cushion was sold very 30 seconds in South Korea!
I've been intrigued by air cushion makeup since I first heard about it last year. However, two things held me back: (1) I already have an HG foundation I love; and (2) air cushions seemed to suit dry skin better than my combination/oily. (Most Korean women have dry skin, and the dewy-almost-bordering-on-shiny skin which is so trendy in Korea right now turns me into a oily, blotchy mess by the end of the day.)
So you can imagine my delight when I discovered, upon my arrival in Korea, that Innisfree had just released the Long Wear Cushion (in conjunction with the Water Glow Cushion, see here for an ad featuring the two), which is formulated for those with oilier skin.
The Long Wear Cushion has a soothing, cooling effect upon application and certainly feels refreshing on these hot summer days. And while it looks a bit shiny when you first put it on, it dries to a dewy, radiant finish that lasts a good 5-6 hours.
While I am sticking to the Giorgio Armani Maestro as my main foundation, I have taken to carrying around the Innisfree Long Wear Cushion for touchups during the day, and will certainly be purchasing another when I run out!
The Face Shop Blackhead Out White Clay Nose Pack, ~$5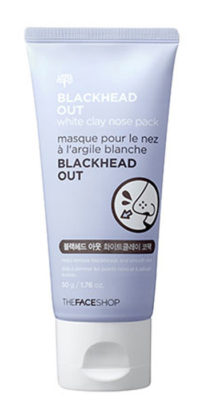 This one is another relatively new product. I bought it on whim waiting in line at a The Face Shop store — the clean packaging and the attractive price (I think I paid ₩3,000, or less than $3 for it) made me go for the impulse buy.
There is nothing spectacular about this product, but I really like the way it works. You apply an even coat over your nose, and several minutes later, when it is dry, you peel it off.
Yes, it works like a Biore Nose Strip. 🙂  Except more fun! (At least to me.)
I only just discovered that there are The Face Shop locations in the U.S., in areas with heavy Korean populations, so you can be sure that I'll be making a visit in the future!
to be continued…
You may also like: