One of the things I miss most about working in an office environment is the plethora of office/desktop toys I used to have lying around my desk (ie, my collection of Star Wars Mr. Potatoheads).
So I live vicariously through J.
I have gifted him many office toys over the years, including a Red Swingline Stapler (à la Office Space) and a Staples® Easy Button. Now, it may be time to add one more…
UK digital design studio Nation has designed a real-life Facebook 'Like' button stamp: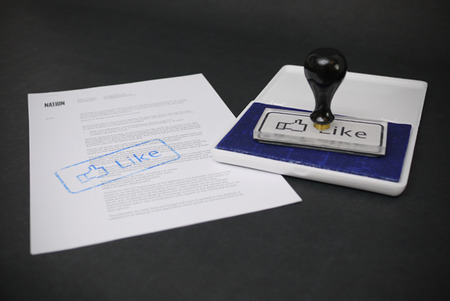 The bad news is that the stamp does not yet seem to be available to the public. But fret not, my impatient Facebook fans — a smaller, self-inking version is available for purchase at Melrose Stamp.
Via The Next Web.
You may also like: