Today was not a good day for me. I experienced perhaps my worst case of nausea since becoming pregnant and spent the majority of the day sitting on the bathroom floor (with my phone and Comang to keep me company), gagging and vomiting what had to be mostly stomach bile. I managed to slowly consume a couple of loaves of bread and some cookies, but proceeded to puke it all out almost immediately.
I know that many pregnant women go months feeling this way. I do not envy them.
Thank goodness for me, our part-time nanny Cindy was there to watch over Claire and even offer to bring me glasses of water.
Cindy has been with us for two weeks now, and already I cannot thank her enough. I called her our own Baby Whisperer from the beginning, because from day one she has been able to put Claire down for naps without a fuss (even I still have some trouble doing this), keep her entertained and happy, and even provide parenting advice…but only when this clueless first-time mom asks!
When I first wrote about finding a nanny, reader Christine asked if my sister would mind writing a guest post on how she helped me find Cindy through Craigslist. Lucky for us, she was happy to stamp out a post. Enjoy, and please be sure to leave her lots of comment love!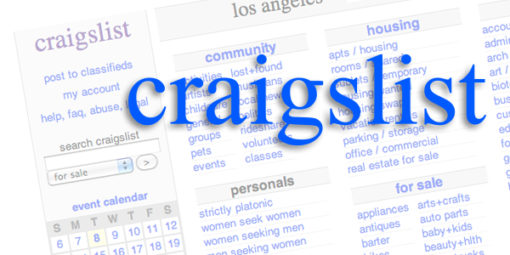 How we found a fantastic nanny through Craiglist:
1.) Figure out exactly what YOU want in a nanny. Are you fairly easy-going or do you want someone who can keep up with your instructions to the T? Also, if you may require help in areas beyond just watching your child (i.e. occasionally walking the dog, fixing meals, tidying up, etc.), make sure you are clear about your needs from the beginning.
2.) Create an ad for help wanted. We used craigslist, but there are plenty of other options. Be concise, but clear. Here is what we wrote in our ad:
We would like to hire a part-time nanny to come in 2-3 days a week (14-16 hours per week). The schedule will change on a weekly basis so we are looking for someone with a flexible schedule.
We have a healthy 8-month-old daughter who is relatively well-behaved. We live in a 2-bedroom condo in ________, in a quiet neighborhood where parking is not too difficult to find (public transportation by bus is also convenient). We are a non-smoking family and would like to keep a tidy house. We also have a small 15lb shih-tzu that is very friendly and well-trained. Some occasional dog-walking may be included as part of the job.
Applicants MUST have experience with infants and be fluent in English. Please attach a resumé and references.
This job will ONLY require you to watch one baby (and the occasional dog-walking mentioned above). There is no cleaning, housework, or cooking involved. As such, the pay will be _____ per week. This job would last past the summer so we are looking for qualified applicants who can continue working throughout the year.
Thanks for reading, and we look forward to speaking with you!
3.) Create a separate email account to read and respond to the ad. If you're like me, you check your email throughout the day and may even have notifications popping up multiple times a day to inform you that someone wants your attention! You don't want all of the responses to your ad to get lost amid all of your personal/work emails (not to mention spam). Simply create a new account and check it during times when you can sift through without a million other distractions getting in the way.
4.) Once the applications come rolling in, you may begin to feel a bit inundated. Personally, I was able to narrow it down pretty easily based on these criteria:
Some responses screamed, "MASS/GENERAL APPLICATION!"  It was obvious some people sent their resumés out to a number of prospective jobs.  That's fine, but at least have the courtesy to personalize it a little bit with a short introduction that shows that you actually read my ad. If they can't take the time to write a proper email, it's not worth my time to follow up.
Based on the timing of the ad, many applicants were looking for just a summer job. (Even though I made it clear that we were looking for someone past the summer, ahem.) Make sure you are clear about how long you would like the position to continue.  It would be horrible to find the perfect nanny, have your child become attached to him/her, and then have said nanny leave after a few months. Then, you would have to start the whole process over again. No fun.
Excessive spelling and grammatical errors? No. I know plenty of intelligent people who can't spell to save their lives, but seriously? Almost everything these days is equipped with spell-check! Misspelling something like, "I'm interested in your add," makes me cringe a little, but it's excusable. If the email is loaded with errors, however, that's just plain sloppy. You can feel free to disagree with me here and say that you're looking for someone who can put your child to sleep easily, not edit novels for you, but proper spelling, grammar, and diction in a job application (even in an email!) shows that the applicant takes the job seriously and took the time to inquire about the position properly.
5.) After all of that, I only had a few to choose from. If additional information was required, I corresponded with the applicants. After that, I checked their references. The nanny who Jenny hired had a GREAT reference. She couldn't say enough about how great Cindy was, and the real selling point was that Cindy's previous employer had been a first-time mom too. So see if you can find a nanny who is not only experienced, but experienced in the way that you need. Do you have three boys under the age of 5? Or a newborn girl? Make sure that they have experience in the type of care you are looking for.
6.) Cindy, Jenny. Jenny, Cindy. They meet. Claire loves Cindy, and Cindy is a baby-whisperer. All is good in the world. 🙂  GOOD LUCK!
---
P.S. — My sister is actually quite a writer. (She used to have a blog, but no longer writes in it…boo!) You can check out a particularly side-splitting piece she wrote here.
You may also like: