I have been learning so much on my TTC (trying to conceive) journey that I have an undeniable urge to share this information with my readers. Please feel free to pass along the info to friends, or save it for future reference.
Tip #1: You Can Save Money by Buying in Bulk

If you plan on POAS (peeing on a stick) numerous times, you may want to save money and buy pregnancy test strips in bulk. Strips come without the plastic packaging that many drugstore brands have, but are just as accurate. (The linked site is one of the most reliable sources for TTC-related items.)
Tip #2: Not All Pregnancy Tests are Alike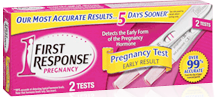 The most sensitive pregnancy test available to consumers is the First Response® Early Result pregnancy test, commonly referred to as FRER in the TTC community. FRER detects 6.3mIU of hCG (the pregnancy hormone) in the urine, while most drugstore brands detect 25-50mIU.
Your body starts producing hCG once the egg implants itself into the uterine wall. hCG levels usually double every 2-3 days, so a FRER is able to provide you with a positive just 3-5 days after implantation.
This isn't to say that all First Response tests are this sensitive. A common mistake made by many TTC women is that they purchase the First Response Rapid Result test, which detects 50-100mIU of hCG.
You can see a list of common pregnancy tests and their sensitivity levels here.
Tip #3: Stay Away from Blue Dye Tests

Do not — I repeat — DO NOT use blue dye tests. Blue dye tests (such as EPT+ or Fact Plus) are notorious for giving false positives. There have even been documented cases of men getting positives when experimentally using blue dye tests.
Check out this link for more information, including a list of common blue dye tests.
You may also like: