Pregnancy hormones are not fun. I have been extra-sensitive lately with the littlest things setting me off.
The latest in the series of dramas – some of which I'm sure are only in my head – involve a couple of internet friends. Recently I found out that someone I had considered a good friend (at least in internet standards) de-friended me on Facebook. I know she is still around, because I can see her commenting on others' status updates, photos, etc. However, now she has set her settings so that I do not even have the option of requesting to be her friend again, let alone shoot her a message to see if something's wrong.
Now, I have just discovered that another person I considered a friend has unfollowed me on Twitter. Not only has she un-followed me, she has blocked me.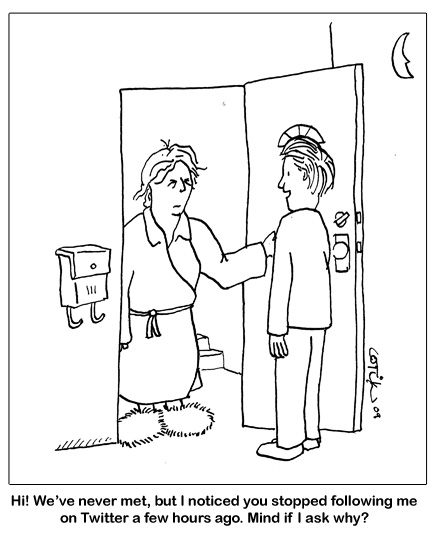 What did I do wrong? Do I have an annoying internet persona? Did I write something that was offensive?
The beauty and the curse of the internet is the anonymity it allows its users. If these were people I knew in real life, I would know almost immediately if they were trying to shut me out of their lives. If these were people I knew in real life, I might try to hunt them down to see where the relationship turned sour. If these were people I knew in real life, I would at least have mutual acquaintances who could give their objective views.
Perhaps these people do have valid reasons for de-friending/un-following me. I only wish I knew the reason why. I feel like they took the cowardly route by choosing to ignore my existence with a few clicks of the button with no prior warning, with no way of getting in touch with them without the involvement of third parties (aka mutual friends/followers).
…Or maybe they weren't my friends to start with.
Have you ever gotten upset over losing an internet friend?
You may also like: