I've always said that even if we do end up getting an iPad or a Motorola Xoom (we still haven't decided which), I would be reluctant to let our kids play with such an expensive device.
Then there's the imagination factor. As much as I am a geek and technophile, it always makes me a bit sad when I see little kids preferring digital devices over some paper and crayons.
Lucky for people like me, there is an adorable kids' alternative to the iPad: the anaPad.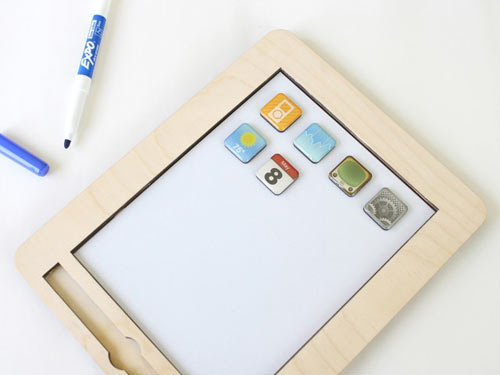 From its Etsy description:
Meet the anaPad–a children's toy that promotes analog learning and creativity in a digital world.

A magnetic white board, perfect for drawing, games and learning, is framed inside a wooden frame cut to the exact dimensions of an Apple iPad. Companion app magnets and marker are included.
The best part? At $28, it is a mere fraction of the cost of the iPad and its competitors.
Via Design Milk.
You may also like: